Tanzania Daily News | 3 December 2013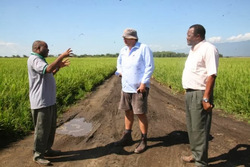 RUBADA and Kilombero Plantations officials at the company's rice farm in Tanzania. Kilombero Plantations recently received GBP 6.7 million for its operations through
a project supported by
the UK's Department for International Development (DFID)
Tanzania: Govt pledges to continue supporting Rubada
Kilombero — THE government has pledged to continue supporting Rufiji Basin Development Authority (RUBADA) in its endeavour to encourage large scale plantation in the country.
The Deputy Permanent Secretary, Ministry of Agriculture, Food and Cooperative, Raphael Daluli gave the pledge when touring rice plantations in Mngeta, Kilombero District in Morogoro Region recently.
The Deputy PS pointed out on the technology, expertise and professionalism employed in the plantations reflected on what was needed from big investors coming in Tanzania.
"We need many more such investors who add value in our economy," he said. Daluli encouraged the use of System of Rice Intensification (SRI) and said that would help in adding a number of small holder farmers surrounding the plantation and contribute in improving citizen's welfare.
"This is a good system, it should continue... RUBADA should continue educating surrounding farmers so that they can understand it and later on join," he said.
The Deputy PS thanked the Kilombero Plantations Limited for helping in increasing employment in the area and strengthening economy.