Business Daily | 28 November 2013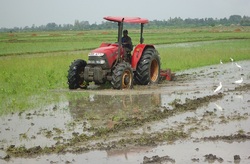 A tractor preparing land at the Bunyala Irrigation Scheme, Budalang'i, Kenya (Photo: Frankline Bwire)
China institute seeks to boost rice production
By LINET WAFULA
An investor is seeking to partner with the Bunyala Irrigation Scheme to improve rice production in the area to boost food security.
The China National Rice Research Institute will conduct research to improve rice yields, grain quality and pest resistance and come up with cost-effective rice production technologies.
Area National Irrigation Board manager Joel Tanui said researchers want to introduce high yielding varieties in the region and train farmers on modern large scale production techniques to raise their yields.
Farmers in the scheme got more than Sh190 million from rice farming last year, according to records from the ministry of Agriculture. The farmers rely on rice varieties such as pishori and sindano.
Mr Tanui said the modern farming methods will reduce cost of production and ensure farmers realise maximum profits from their labour.
"China has made a lot of progress in rice production and we hope by partnering with them, we will have sufficient food at affordable prices," he said.
Busia County executive member for finance Leonard Obimbira said the project will improve household economy.
"With this new development the local farmers are likely to earn more from the crop and boost the local economy," he said.