Wall Street Journal | 17 November 2013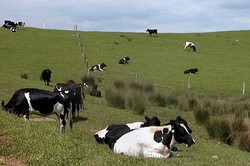 Fund manager Duxton buys farms in New Zealand
By Lucy Craymer
Duxton Asset Management has put its roots down in New Zealand's agriculture sector for the first time, buying a stake in seven sheep and cattle farms even as it voiced concern over the country's system of regulating foreign investment.
The Singapore-based fund manager has purchased a 50% interest in the farms in the Otago region of New Zealand's South Island for an undisclosed sum, in a bet on rising demand for protein among Asia's increasingly affluent middle classes.
Red meat is New Zealand's second-largest export after dairy, accounting for around 5.2 billion New Zealand dollars (US$4.3 billion), or 11% of outbound shipments annually. Wool is also a big money-spinner, with exports worth around NZ$699 million each year. New Zealand's economy remains reliant on the strength of its exports and any weakness in soft commodity prices is of concern.
Desmond Sheehy, Duxton's chief investment officer, said the company had agreed to several deals around the region and expected to do more. This included looking for further investments in New Zealand.
"We are a little agnostic. What we look for is good value and what is more important is who we are investing alongside -good management team and a good approach," said Mr. Sheehy.
Duxton, which focuses on alternative investments in agriculture and emerging markets globally, manages around US$620 million.
Mr. Sheehy said investing in New Zealand had been a "difficult process" and they had been looking at the country for some time.
The overseas investment process "is time consuming, it's expensive and the time between making the investment and when you are potentially allowed to invest is long," said Mr. Sheehy. "There is some risk that you will put all this money aside and you might not get approved, or someone on the other side changes their mind because the value has gone up 10-15%."
A spokesman for Land Information New Zealand, which is responsible for approving overseas investments, said they couldn't immediately comment.
Approvals by New Zealand's overseas investment office were in the spotlight last year, when China's Shanghai Pengxin Group Co., Ltd. purchase of 16 dairy farms for NZ$200 million was challenged in the courts. However, the courts eventually allowed the sale to go ahead, ending months of uncertainty for overseas investors about whether New Zealand was open for business.
While transactions in New Zealand have been slow, Duxton has five investments across the Tasman in Australia: a dairy farming operation in Victoria state, cereal and lamb production outfits in New South Wales state and stone fruit orchards in Queensland state, and a stake in apple grower Rivercorp Land and Water.
Agriculture assets are proving popular with investors at a time when other industries, such as mining, appear to have fallen out of favor. Last month, Synlait Milk Ltd.SML.NZ -0.26% Managing Director John Penno and a consortium that includes China's Shanghai Pengxin Group Co. offered NZ$85.7 million to acquire dairy company Synlait Farms Ltd., which is unaffiliated with Synlait Milk. In Australia, a three-way takeover tussle for Warrnambool Cheese & Butter Factory Co.WCB.AU -0.65% is intensifying.
The increased interest is making agriculture assets more expensive, with share prices of many listed companies in New Zealand and Australia sharply higher than a year earlier. Data released by the Real Estate Institute of New Zealand show the median price per hectare for farm land was up 23.7% on year in the three months through October.
Mr. Sheehy said Duxton's recent purchase was in "an area in New Zealand that we think is more fairly priced."