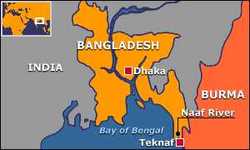 Financial Express | 19 Nov, 2013
EDITORIAL
Beefing up ties with Myanmar
Rahman Jahangir
Myanmar is within a stone's throw from the bank of Naaf river in Bangladesh. But it seems the two countries are now distant neighbours. Bilateral cooperation between them in the economic field has remained almost stagnant in recent years when the western countries lying thousands of miles away, are in a scramble to land in Yangon to explore lucrative avenues for investment and cooperation in different fields.
The existing relations between the two immediate neighbours turned sour not long ago when Bangladesh refused to admit more Rohingya refugees escaping arson attacks in Arakan province of Myanmar.
Bangladesh will have a good chance to substantially improve its relations with Myanmar when the Joint Trade Commission (JTC) will meet at Nay Pyi Taw, capital of Myanmar, in January next. But the time for the meeting is not apparently auspicious for Bangladesh. The country is then likely to remain turbulent as the tenth parliamentary polls will be held that month.
The previous JTC meeting was held in Dhaka last year. In that meeting both the countries agreed to increase bilateral trade by strengthening border transactions.
The Bangladesh Commerce Secretary has identified some areas that will be highlighted in the January meeting. These are border trade, minimising the trade gap between the two countries, facilitation and promotion of trade of agricultural products, food grains and other products under private sector initiative. The trade between the two neighbouring countries now stands at only $160 million.
In the last meeting, the Myanmar team proposed to Bangladesh to invest in agriculture in their country as it has a lot of arable lands for this purpose. The Myanmar government also said they were ready to give long-term lease of land to Bangladeshi entrepreneurs for agricultural purposes from which both the countries would benefit.
The officials discussed the potential for setting up wholesale border markets at Bangladesh's Teknaf and Myanmar's Maungdaw, a border town. The two countries formed a joint committee on coastal shipping. During the upcoming meeting the committee will identify the commercial shipping routes, inlcuding the ports of call, and fix the tariff for shipping lines between the two countries.
It is now time for strengthening political, economic and strategic relations between Bangladesh and Myanmar to tap the potentials of the two neighbours for their bilateral progress.
Bangladesh can gain immensely in five areas: (a) construction of Chittagong-Maungdow-Kunming road for onward connectivity with the countries of Southeast Asia and China, (b) contract farming, (c) tapping hydro-power potentials in Myanmar and (d) gas import.
Bangladesh should pursue a tri-nation committee involving China and Myanmar for implementation of the proposed road and rail links between Bangladesh and China through Myanmar. Prime Minister Sheikh Hasina has already raised the matter before the Chinese authorities so that Bangladesh, Myanmar and China could work together in a coordinated way for implementation of the road and rail links. China has agreed to help implement the project. She said a project financed by the Bangladesh government styled as the 'Study and Design for Bangladesh-Myanmar link road' was underway. The road project was to be implemented in two phases.
Under the first phase, two kilometres of road will be constructed from Ramu to Gundum inside Bangladesh and 23 kilometres will be constructed between Taungbro and Bolibazar inside Myanmar, Hasina said. This project will be financed by Bangladesh government. In the second phase, the Myanmar authorities will construct 110 kilometres of road link between Bolibazar and Kyanktow in Myanmar. There is a road link between Kyanktow and Kunming.
Besides tapping huge hydro-electricity potentials, Bangladesh can import gas from Myanmar as China is doing these days. The pipeline carrying Myanmar gas to China reached full pumping capacity recently. A spokesperson for the Southeast Asia Crude Oil Pipeline (SEAOP) and Southeast Asia Gas Pipeline (SEAGP) said the 2000-kilometre pipeline is now fully operational. The Myanmar section of the line is 793km long. It's now in full operation from the starting point at Kyaukpyu in Myanmar to the station on the Chinese side. The line is designed to carry 12 billion cubic metres of natural gas a year, of which up to 5.2 billion cubic metres of gas a year can be carried in the first phase. The pipeline extends across Rakhine State and Magwe and Mandalay regions, through northern Shan State to Muse on the Chinese border, with unloading points at Kyaukpyu in Rakhine State, Yenangyaung in Magwe and Thaungtha in Mandalay. Myanmar will receive 2.5 billion cubic metres of gas a year from the deal, which will bring in an annual income of US$30 billion over the next 30 years.
Myanmar is a country with an area of 676,577 square km, while Bangladesh's area is 143,998 square km. Myanmar is almost five times the size of Bangladesh. On the other hand, Myanmar's population is only 47 million, while Bangladesh's population is around 160 million. Myanmar's population is one-third of Bangladesh's population. The density of population in Myanmar is 70 persons per square kilometre, while it is 861 in Bangladesh. As such, per capita share of land in Myanmar is 12 times bigger than that in Bangladesh.
In a meeting held between the two countries in May 2007, Myanmar had proposed to Bangladesh to take lease of at least 50,000 acres of land in its Rakhine state for contract farming. Bangladesh responded to Myanmar's proposal positively. The matter should now be vigorously pursued. The land would be leased to produce crops like paddy, onion, maize, soybean, tea, and sugarcane. A rough estimation shows that at least 10,000 Bangladeshi farmers, mostly from Chittagong region, could be employed through this contract farming. According to a proposal, up to 5,000 acres of cultivable, fallow or wasteland is available for plantation crops, 3,000 acres for fruit gardens and 1,000 acres for seasonal crops for contract farming.
Myanmar has vast natural resources, and Bangladesh can benefit by strengthening bilateral relations. For example, according to one estimate, Bangladesh can bring in some 2,000 megawatt of power from Myanmar by investing in its hydropower sector in Rakhine. India has already been cooperating with Myanmar in the power sector.
[email protected]