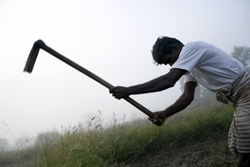 Dow Jones Global Equities News | 25 September 2013
ADB to Increase Its Lending to Agri-Business Companies -Official
By Sameer C. Mohindru
SINGAPORE--The Asian Development Bank plans to increase its lending to agri-business companies and will also start picking up stakes in such enterprises from next year, a senior ADB official said Wednesday.
"The objective is to improve market access for farmers, create jobs and enhance food security," Martin Lemoine, senior investment specialist at the Manila-based bank, said on the sidelines of an agriculture conference here.
"We have already closed four deals for lending to private companies in the agricultural sector in the last year, and more such projects are in the pipeline," Mr. Lemoine said.
Total private lending in the four deals--one each in India, China, Bangladesh and Kazakhstan-- is around $100 million, but the ADB will gradually increase such exposure in the next few years, he said.
Mr. Lemoine said the ADB is considering a $150 million lending proposal for supporting Asian investment in a major global sugar and coffee trading company.
The ADB resumed lending to private agri-business companies in 2012, after a gap of 27 years. Its total annual lending in the private sector is around $1.8 billion.
The ADB is looking at lending and investment opportunities in cold storage and food processing projects and companies, Mr. Lemoine said.
The ADB also plans to pick up direct equity stakes in food and agri-business enterprises and current targets include organic food companies in Sri Lanka, he said.
"We have equity stakes in renewable power, banking and telecommunications companies and intend to expand to food and agri-business by next year."
Currently, the ADB has investments in private food and agri-business companies through private equity funds.
Mr. Lemoine said the ADB's annual lending to the public sector or governments for food security related projects, including irrigation and rural roads, is around $2 billion and is likely to remain stable around this level.
"Any big increase in such lending is unlikely, as we need to preserve our excellent credit rating."
Write to Sameer C. Mohindru at
[email protected]