Boycott Blood Sugar | 12 November 2013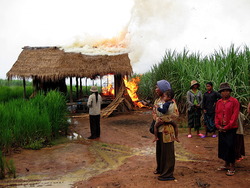 The above photo was taken during the October 2009 forced evictions inside the Mitr Pol Sugar's land concession. (Photo: LICADHO)
Coca-Cola: We salute your pledge and now we await your actions to make your suppliers respect human rights
(Phnom Penh, November 12, 2013) - We commend the Coca-Cola Company for its recent pledge of "zero tolerance for land grabbing" in its supply chain. This is a bold and unprecedented commitment by one of the world's biggest sugar buyers. It has the potential to be truly transformational in reforming a sector that is deeply implicated in land grabbing and environmental destruction.
Yet words are cheap and it is Coke's actions on which it will be judged by consumers. We will be watching one case in particular to see if it means what it says. In its statement on land grabbing, Coca-Cola disclosed that the Thai sugar giant, Mitr Phol, is one of its top three global suppliers.
Mitr Phol's land concessions in Cambodia were acquired from local communities through violent force. Hundreds of families lost their farmland, crops and access to community forests as a result of the sugar concessions in the Samrong and Chongkal districts of Oddar Meanchey province. More than 250 families had their homes and possessions bulldozed or burned to the ground and their rice crop looted in Bos village in 2008 and 2009 to make way for Mitr Phol's plantation. Nearly all these families were left landless and homeless, without any receiving compensation for their losses or rehabilitation of their livelihoods. Community leaders who led protests to demand the return of their land were beaten and jailed. As a result of these land grabs, affected people have been left to face deprivation.
Mitr Phol has refused multiple requests to engage with the Clean Sugar Campaign and representatives of the affected communities, including last week when a delegation from Koh Kong, Kampong Speu and Oddar Meanchey provinces went to Bangkok to seek meetings with the Thai companies behind the sugar rush in Cambodia.
The Clean Sugar Campaign calls upon Coke to use its enormous leverage over Mitr Phol to demand that the company provide full and just reparations for all harms and losses suffered, including returning illegally appropriated land, and immediately begin meaningful dialogue with representatives of the affected communities over the nature and means of reparations.
"Our community in Oddar Meanchey was so happy to hear about the Coca-Cola Company's promise to not tolerate land grabs in its supply chain," said Hoy Mai, who was evicted from her home and farmland in Bos village in 2009 and then thrown in jail for protesting while she was five months pregnant. "We have suffered so much at the hands of Coke's supplier, Mitr Phol. We are waiting for Coca-Cola to help end our hardship," she added.
"Coke's statement is a watershed moment for the communities in Oddar Meanchey, who have been hopeless that Mitr Phol would ever repair the grave harms they have caused," said Eang Vuthy, Executive Director of Equitable Cambodia, a Cambodian NGO that is helping the displaced communities in Oddar Meanchey seek justice. "If Coke really means what it says, then we expect Mitr Phol will pick up the phone next time we call."
"Coke must commence an immediate investigation into the forced evictions and land seizures perpetrated to clear the way for Mitr Phol's Cambodian operation," said David Pred, Managing Associate of Inclusive Development International.
"When the world learns the facts about this awful case, Coke consumers will expect that the soft drink giant ensures that justice is promptly delivered to the victims," he added.
________________________________________________________
The Clean Sugar Campaign is a coalition of affected communities and civil society organizations working to:
▪ Stop human rights abuses and environmental damage caused by the Cambodian sugar industry;
▪ Bring about a just resolution for the individuals and communities that have been harmed by the industry; and
▪ Ensure that the agricultural development and trade policies benefit smallholder farmers and local communities.
For more reporting on the sugar industry in Cambodia, please visit www.boycottbloodsugar.net
For more information, please contact:
· Seng Sokheng, Community Peace-building Network
[email protected]
(+855) 92 324 668
· Eang Vuthy, Equitable Cambodia
[email protected]
(+855) 12 791 700
· David Pred, Inclusive Development International
[email protected]
(+855) 92 285 954