African Press Agency | November 5, 2013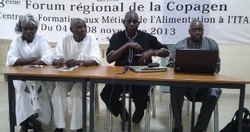 West African civil society groups strategize against land grabbing
Members of the West African civil society and the Coalition for the Protection of African Genetic Heritage (COPAGEN) on Monday opened a regional forum on the impact of land grabbing on food security.
Participants will discuss and share views on land grabbing which has become a major concern for African countries since it destroys the environment and threatens food sufficiency says Marieme Sow of COPAGEN.
Speaking at the opening ceremony of the forum which ends on November 8, Mrs Sow explained that one of the drawbacks of land grabbing on agriculture was the uncontrolled introduction of Genetically Modified Organisms (GMOs).
With the phenomenon of land grabbing, the African biodiversity is also threatened, says Francis Ngang also from COPAGEN.
The Senegalese Minister of livestock, Aminata Mbengue Ndiaye said in order to forestall land grabbing, West African countries have to unite.
Other participants come from Canada, Switzerland and India.