Business Mirror | 29 October 2013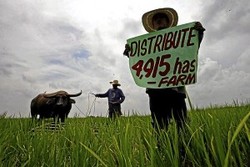 In November 2011, the Supreme Court ordered the distribution of land to farm workers of Hacienda Luisita, an estate owned by the family of President Benigno Aquino III. The ruling capped the decades-old struggle of farm workers in the sprawling sugar plantation to own a piece of land. At least 14 farm workers, union leaders and agrarian reform advocates lost their lives in the struggle. Most of them were shot dead."
Indofood keen on Luisita sugar mill
by Lenie Lectura
MANILA - PT Indofood Sukses Makmur Tbk. of Indonesia, the food unit of Hong Kong-based conglomerate First Pacific Co. Ltd., maybe interested to acquire the sugar mill inside Hacienda Luisita in Tarlac City.
First Pacific Managing Director Manuel V. Pangilinan said there is a strong interest to invest in the mill, which is in a 50-hectare property in the estate, since Indofood is a major plantation operator in Indonesia in palm oil, sugar, rubber, coffee and cacao.
Indofood, controlled by the Salim family, is engaged in oil-palm cultivation and milling; as well as the production and marketing of branded cooking oils, margarine and shortening. It is also engaged in the cultivation and processing of rubber, sugar cane and other crops.
"We are interested in sugar in general because Indofood is in sugar plantation and sugar milling and refining," said Pangilinan.
When pressed to ask if plans to acquire the mill have been finalized Pangilinan said, "I think it's a general interest. Nothing has been finalized by anybody."
But definitely Pangilinan reiterated that the property is worth looking at. "It's a possibility because it's a sugar mill."
In May Pangilinan said Indofood is on the lookout to lease and develop parcels of land for large-scale commercial farming.
He said he was in talks with officials of the Department of Agriculture about Indofood's plan.
In June Pangilinan's group reportedly sent a team to Davao Oriental to assess available areas suitable for palm-oil production. But a militant farmers' group opposed the said plan to establish a 30,000-hectare plantation for palm oil.
PT Indofood is controlled by First Pacific which, in turn, holds interests in several domestic companies in the country, including Philippine Long Distance Telephone Co., Metro Pacific Investments Corp., Manila Electric Co. and Philex Mining Corp., all of which are chaired by Pangilinan.