Sapo News | 21 October 2013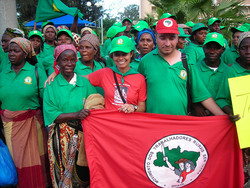 "Open your eyes, you'll lose the land," warns a Brazilian 'sem-terra
', referring to the ProSavana project in Mozambique
[
Em português
]
(Translation by GRAIN)
One of the central figures of the Brazilian '
sem-terra
' (without land) movement, Augusto Juncal, was in Maputo as a 'heavyweight reinforcement' for the campaign by Mozambican small-scale farmers against ProSavana. Juncal left the warning: "Open your eyes, you'll lose the land".
ProSavana, an agricultural development programme by the governments of Mozambique, Brazil and Japan – which is still in the initial stage of implementation in the centre and north of Mozambique – is being challenged by the União Nacional dos Camponeses de Moçambique (UNAC - National Union of Small-scale Farmers of Mozambique), the largest organisation of its type in the country.
To be implemented over an area of millions of hectares across 19 districts of central and northern Mozambique, ProSavana aims to boost agribusiness through private sector participation in the production of crops for export.

UNAC argues that the Brazilian model for agricultural development of tropical savannah that will be replicated in the Mozambican project will cause the expropriation of land from millions of peasants, exacerbate poverty and lead to social unrest, as happened in Brazil, leading to the 'sem-terra' phenomenon.

Speaking as guest of honour at the Second International Small-scale Farmers Conference on Land, held this week in Maputo, Augusto Juncal, spokesman for the [Brazilian] Movement of Landless Rural Workers (MST), said he had no doubt that ProSavana would harm the farmers of central and northern Mozambique.

"I don't think there is enough concern surrounding ProSavana, given the [scale of the] problem that is coming. I guess the farmers have not yet realised what is coming, because when they do, there will be no negotiations with the government," said the Brazilian activist who fights for landless farmers in Brazil, speaking to [the Portuguese news agency] Lusa.

"I'm telling you: open your eyes, you'll lose your land, this is no joke, this is a process of encroachment; land appropriation. In Brazil, the development of the cerradoexpropriated a lot of people; destroyed one of the most important biomes of the country," emphasised Augusto Juncal.

The director of the Angolan non-governmental organisation Acção para o Desenvolvimento Rural e Meio Ambiente de Angola (ADRA - Action for Angolan Rural Development and Environment (ADRA), Guilherme Santos, also believes that if ProSavana favours the interests of agribusiness at the expense of small-scale farmers, the country will undergo serious social tensions.
"If one does absolutely nothing to protect the interests of farmers; if the trend is to trample on the interests of the small-scale farmers, then there will be upheaval," noted Guilherme Santos.

The activist who fights for the rights of Angolan small-scale farmers believes that it is not too late for Mozambique to prevent ProSavana from resulting in losses for farmers.

"There is still an opportunity for dialogue, a dialogue that has an objective accepted by all, taking into account the economic, social and cultural aspects of all stakeholders. Mozambican civil society must build the capacity to influence decision-making regarding ProSavana," said Guilherme Santos.

During the conference, UNAC was once again emphatic in its repudiation of the initiative, accusing the government of "contradictions" in its statements on the consequences of the programme and intimidation in discussions with the farmers.

"ProSavana has been marked by contradictions because we have the central government denying that there will be resettlements, but local officials say millions of hectares of land will be needed for the programme," said Vicente Adriano, UNAC Cooperation and Advocacy Officer.

PMA / / MLL