The Citizen | 23 October 2013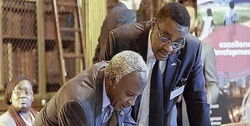 Tanzania's minister for Agriculture, Food Security and Cooperatives, Eng. Christopher Chiza and Ambassador Peter Kallaghe look at details during roundtable talks with various international investors at the Reform Club in London on Monday.
Chiza: TZ ripe for progress in agriculture
By Freddy Macha
London. Investment, business and technological advancement remain key to agricultural development in Tanzania, minister Christopher Chiza said here on Monday.
Speaking at a roundtable meeting at the exclusive Reform Club in Pall Mall, the minister said the only way out of subsistence farming was through private sector businesses.
"We need to rely on the availability of modern technology and explore better farming methods such as irrigation and stop over dependence on climatic conditions," he said.
Leading a strong delegation of experts and seasoned technocrats, the minister who is here for a five day official visit at the invitation of the UK government emphasised the importance of the agriculture sector in the Tanzanian economy, which serves 95 per cent of the population and therefore its betterment shall benefit the majority of our people.
Speaking on the reluctance of investors to come to Tanzania due to certain constraints such as lack of information, the minister elaborated that the government had the right channels in place to inspire business.
Commenting on land-grabbing which was raised several times during the talks, Engineer Chiza explained: "Someone published information that was not true. One newspaper even reported that the government had grabbed 3 million hectares of land. Actually the land that has been surveyed in the last two years is not more than 4,000 hectares. As a result of this misinformation, Tanzania has been removed from the list of possible investment opportunities. How can these people confound information that has been in one newspaper? Even today NGOs are publishing such information. They are recycling old information. Please come, engage and talk to us in the government and credible institutions like SAGCOT."
The UK Tanzanian agriculture investment roundtable talks were hosted by developing markets associates (DMA) with the FCO- Foreign and Commonwealth Office and divided into speeches and discussions.
Ambassador Peter Kallaghe reiterated Tanzania's mission to develop trade and business opportunities following President Kikwete's meeting with UK minister for Africa Mark Simmonds in July 2013, having launched an agreement of trading partnership between the two countries last year.
"Agriculture is one of the key points in the development of this partnership and in developing our economy," the envoy said.