freenewspos.com | 19 October 2013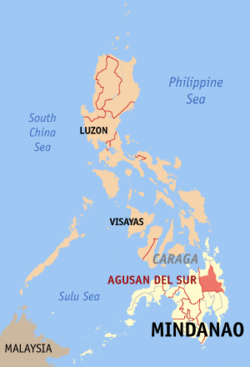 Agusan del Sur is a landlocked province of the Philippines located in the Caraga region in Mindanao. (Wikipedia)
Indonesia to invest in Agusan's palm oil
PROSPERIDAD, Agusan del Sur – Indonesian investors from two of its government-owned and controlled companies are planning to invest in a 60,000 hectares palm oil plantation in the province to further increase productivity.
The team of PT Perkebunan Nusantara (PTPN) and Pertamina made the personal visit in the province for its investment mission Friday.
The visiting investors are eyeing to expand Indonesia's palm oil industry in the Philippines to hit its 10 year target 60,000 hectares.
Currently, Agusan del Sur has only an estimated 25,000 hectares of palm oil trees and most of these are located in the southern part of the province.
According to the Department of Trade and Industry (DTI-13), Caraga Region is a very potential area for plantation as it has over 384,000 hectares of land to offer.
Agusan del Sur Gov. Adolph Edward G. Plaza expressed his delight on the investment plan saying "investment is the economic driver of the provinces' continuing development and economic growth."
The Indonesian investors also surveyed the status of lands, transport and communication, infrastructures, extension of plantation, shape of the region's climate, availability of labor, administration's demographic data, public facilities, peace and order, and culture.
PTPN Director for Planning and Development Memed Wiraminardja said that one of its purpose in visiting the province is to make the procedure and preparation for the acquisition of oil palm plantation with any interested party.
Meanwhile, Alma Argayoso, Philippine Attache to Jakarta, Indonesia said this move of the Indonesian government is one of the products of President Benigno S. Aquino's attendance to the APEC summit where he offered the potential investment areas of the country in order to bring in investment for agriculture and tourism which can benefit people in far flung areas.
"Caraga Region is a very potential area for plantation all over the country," Argayoso added.
Agusan del Sur Vice Governor Santiago Cane also welcomed the Indonesian team , saying "investment is the spark plug of development in the province."
"In fact, we in Agusan del Sur had legislated an Investment Code where I authored way back in 1998 during my first term as member of the Sangguniang Panlalawigan. We have done this because we are protective of the investments here in Agusan del Sur while protecting our environment. We are doing this in order to fully observe and implement the laws in order to maintain ecological balance and to align it to investment," he added.