Jiji Press | 3 October 2013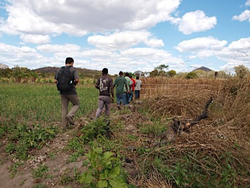 NGOs call for review of Mozambique farm project
(
Statement of Japanese NGOs on Prosavana in Japanese
)
Five Japanese nongovernmental organizations have called for a review of a Japanese government-backed large-scale farm development project in Mozambique.
The NGOs demanded a suspension of the project during a press conference held in Tokyo after returning from a visit to the southern African country to look into the situation.
The NGOs cited concerns among local small farmers that they cannot make a living if they are deprived of farmland due to the development project. Under the Pro-Savana agricultural development project, Japan, Mozambique and Brazil have been developing the northern part of Mozambique since 2009 in an effort to change the region into a large-scale farm production base for exports.
The NGOs said the countries should first hold talks with the local people before proceeding with the project. The NGOs include the Africa Japan Forum, Oxfam Japan, the Japan International Volunteer Center and the Japan Association for the Taxation of Financial Transactions for the Aid of Citizens.