Agrimoney.com | 1 October 2013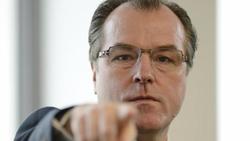 In 2007, meat-to-football tycoon Clemens Tönnies (above), head of Germany's biggest pork processor the Tönnies meat group, established the Sojuz Group, which fattens pigs and grows mainly feed crops over 45,000 hectares in western Russia, near the Ukraine border. Tönnies is also chairman of the Schalke 04 football club, seven times winners of Germany's top football league, whose sponsors include Gazprom, the Russian energy giant. (Photo: Bernd Thissen)
KTG Agrar joins sports tycoon in Russia ag venture
KTG Agrar gave a vote of confidence to under-fire Russian agriculture by investing in a pig and grains operation in the country, joining meat-to-football tycoon Clemens Tönnies on the shareholder register.
KTG Agrar - based in Germany, but which also farms in Lithuania in the former Soviet Union - said that it had taken a 17.5% stake in the Sojuz Group, which fattens pigs and grows mainly feed crops over 45,000 hectares in Russia.
The investment, which a source told Agrimoney.com had cost in the "low-double-digit millions of euros", come amid a debate over Russian agriculture sparked by claims by Velcourt, the farming consultancy business, of endemic "dishonesty", and a lack of "honest, accountable farm management" in the sector.
'Thorough examination'
KTG said that the deal was "being undertaken following a thorough examination", and after five years' as crop advisor to Sojuz Group, through an agreement which offered the option for an equity investment.
"We have gotten to know the region and its people in recent years and we are convinced of the opportunities," Siegfried Hofreiter, the KTG Agrar chief executive, said.
"Russia is one of the world's key markets for the agricultural sector and offers outstanding long-term potential."
Salami-to-soccer tycoon
Sojuz Group - which operates in Belgorod in western Russia, near the Ukraine border, and in the central, black earth region – was set up in 2007 by Clemens Tönnies, head of the Tönnies meat group, Germany's biggest pork processor.
He is also chairman of the Schalke 04 football club, seven times winners of Germany's top football league, whose sponsors include Gazprom, the Russian energy giant.
JHe reportedly has the ear of Vladimir Putin, the Russian prime minister, who is said to have invited Mr Tönnies to set up Sojuz to back plans to develop the country's meat industry and reduce its reliance on imports.
Development plans
Mr Tönnies said on Tuesday that he was looking forward "to continuing our close co-operation with KTG Agrar", with which Soyuz had "built a highly modern agricultural company in recent years".
Sojuz, which achieved operating profits of E20m last year on sales of E90m, has plans to develop an additional 10 pig breeding and fattening farms, producing 650,000 pigs a year for slaughter, and extend its landbank to 60,000 hectares.
The group already runs pig fattening operations with annual output of 650,000 pigs in Belgorod, and is building a 65,000-animal site at its site in the black earth region, with a feed mill capable of producing 240,000 tonnes of fodder a year also under construction.
Other shareholders in Soyuz include RKS Agrarbeteiligungs, the German-based beef group, which is combining its 17.5% stake with KTG's in a holding company named TKS Union.