4-traders | 19 September 2013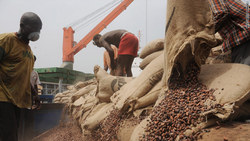 Photo: Christopher Santora
Agriterra Ltd : Expansion and development of cocoa operations
Agriterra Ltd, the AIM listed pan African agricultural company, is pleased to provide an update on the rapid development and expansion of its cocoa farming and trading operations in Sierra Leone, through its wholly owned subsidiary Tropical Farms Ltd ('TFL'), in line with Agriterra's strategy to build a vertically integrated pan-African agricultural group.
Plantation - accelerated development to achieve large scale commercial production
· Expansion of cocoa plantation located 35km south-east of Kenema through acquisition of adjacent 1,600 hectares of land suitable for cocoa production
· Total plantation now 3,200 hectares - further progressing strategy of initiating large scale commercial cocoa production
· 250,000 seedlings cultivated in TFL's 1.6 hectare fully-irrigated nursery now planted on 200 hectares of cleared land
· 1,000 additional hectares of land to be cleared ahead of 2014 planting season - in excess of 750 hectares are expected to be planted by Q3 2014
· New nursery ordered that will expand nursery coverage to 2.2 hectares with capacity for up to 1 million seedlings with full irrigation
· Construction of administration offices and accommodation well progressed on plantation site - targeted for completion in December 2013
· Infrastructure development programme in place for 2014 to further improve plantation infrastructure and access to Kenema, including roads and bridges
· Negotiations advancing regarding the acquisition of a further 1,550 hectares adjacent to and south of the plantation
Cocoa trading - expanding buying capacity and securing supply & off-take
· Buying infrastructure expanded through two new stores in Kono and Kailahun, in the Eastern Province of Sierra Leone
· Support infrastructure and logistics chain will be significantly strengthened through 2,000m2 warehouse and processing facility in Kenema, the centre of the cocoa growing industry in Sierra Leone
· Warehouse and processing facility expected to be operational in November 2013
· New off-take agreements secured with Noble Group Limited, a market-leading global supply chain manager of agricultural products
· Appraisal underway for UTZ and Rainforest Alliance certification
Andrew Groves, Agriterra Chief Executive said, "The accelerated development strategy that we have implemented at our 3,200 hectare plantation is designed to maximise revenue generation from early production. As we continue cocoa planting across the rest of our property over the next two years, our status as a premier Sierra Leonean cocoa trading company will be further enhanced by the important advances that our buying operation achieves, through the expansion of our buying capacity, storage facilities and logistics chain.
"In addition, we have formed important relationships with major international cocoa trading and buying companies, including Noble Group, and I am confident this will give us a competitive advantage as we begin to produce cocoa from our own plantation. We have built a reputation for delivering high quality, traceable and ethically produced cocoa, as evidenced by the current UTZ and Rainforest Alliance certification appraisals, ensuring that we can command attractive prices and forge long term sales agreements. This is of particular importance considering the wider market for cocoa, where cocoa shortages are expanding as chocolate sales climb to record highs. With this backdrop of a favourable pricing environment for cocoa, and a proven track record to deliver, I believe we are well positioned to increase revenue generation and margins over the coming years, as our own high quality product reaches the market."
** ENDS **
Notes
Agriterra Ltd is an AIM listed agricultural company with five divisions: beef, maize, cocoa, fruit and palm oil. Its cattle ranching business, Mozbife, has a herd in excess of 6,869 head, a land holding of over 21,000 hectares, a feedlot, a 4,000 head per month capacity abattoir and retail units. In addition to selling meat from its own herds, throughput for the feedlot and abattoir is supplemented with cattle bought in from local communities. The Company also owns a proximal banana plantation and macadamia orchard.
The Company's maize buying and milling operations, DECA and Compagri, are located in Chimoio and Tete in central and north-western Mozambique respectively. These collect maize from circa 350,000 farmers using the Company's own vehicle fleet, process it into maize meal, the African staple, and then sell it back to the local market, into supermarkets and to the World Food Programme.
Agriterra's cocoa business is based in Sierra Leone, through its 100% subsidiary Tropical Farms Limited ('TFL'), which includes buying, trading and production operations. The Company holds over 3,200 hectares of plantation land for cocoa cultivation in addition to a 2.2 hectare nursery, 35km south-east of Kenema. TFL also operates a successful cocoa trading business with a strong buying register of three main hub stores in Kenema, Kono and Kailahun, and a direct buying register of more than 3,500 farmers across the country. TFL are finalising the construction of a 2,000m2 warehouse and processing-to-export facility in Kenema, to further strengthen the cocoa trading logistics chain, which they expect to be operational in November 2013. Its strategy is to establish itself as a secure, sustainable and traceable source of supply to meet the requirements of the major cocoa consumers who are placing increased emphasis in this area.