Identification of land for SAGCOT Investments
Published: 10 Sep 2013
mikaelbergius | 10 Setember 2013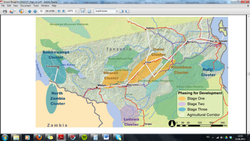 Identification of Land for SAGCOT Investments
The Rufiji Basin Development Authority (RUBADA) is a philanthropic Government organization in Tanzania. Its mandate within the SAGCOT initiative is primarily to identify suitable land for large scale commercial agro-investments with outgrower potential. Part of this work also includes the facilitation of village land use plans (VLUP) and sensitizing campaigns in villages about the benefits that may accrue from investments – such as infrastructure development and new income opportunities.
As a consequence of SAGCOT and Big Results Now the VLUP process is starting to gain momentum in the corridor – which in a sense is very positive as the villages get proof of their land use and size. However, it is important that this momentum is not only driven by the eagerness to identify land for investors, but rather to increase tenure security for local villagers. Given the determination to identify large parcels for so called nucleus farms I am worried that village tenure security is of second priority – it should be the other way around. To have well informed and participatory VLUP processes villagers should not only be sensitized about the potential benefits, but also be well informed about the consequences of making land available to an investor. The question is if RUBADA, with its mandate, is also able do the latter part.
Currently, to my knowledge (which may not be precise), 16 sites have so far been identified for investment promotion under the SAGCOT initiative (excluding projects that have already started). These sites are earmarked for large-scale commercial rice and sugar production and are primarily located in two of the priority clusters – Rufiji and Kilombero. Please note that some of these sites were prepared for investment projects before the SAGCOT initiative, but in which investors withdrew their proposal before starting any operations on the land:
Mkongo (20 000h in Rufiji for sugar – prepared for Korean investors some years ago)
Muhoro (20 000h in Rufiji for sugar)
Tawi/Utunge (20 000h in Rufiji for sugar – Swedish SEKAB had planned investments in this area but withdrew)
Lukulilo (8 000h in Rufiji for rice – investor is ready but no operations started yet)
Mvuha (20 000h in Morogoro for sugar – VLUP in process)
Kisaki (20 000h in Morogoro for sugar – VLUP in process)
Kiberege (20 000h in Kilombero for sugar)
Mkulazi (25 000hx2 for sugar and 10 000h for rice in Morogoro)
Kihansi (5 200h in Kilombero for rice)
Ngalimila (5200h in Kilombero for rice)
Manda (20 000h in Ludewa for sugar – VLUP not yet started)
Ruipa (13 000h in Kilombero for sugar)
+ 2 additional sites for rice in Ulanga.