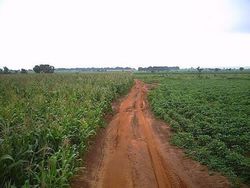 Kaboji Farm is one of the largest commercial farms in Nigeria
Business Day | August 28, 2013
Flour Mills of Nigeria notifies NSE on agreement with Adecoagro
Flour Mills of Nigeria Plc has notified the Nigerian Stock Exchange (NSE) that it has entered into a technical assistance agreement with Adecoagro, a leading South American Agro Industrial Company.
Adecoagro owns and operates over 278,000 hectares of high quality farmland and several industrial assets where it produces over 1.2 million tons of food commodities and renewable energy, including, corn, wheat, soybean, rice, cotton, milk, sugar, ethanol and electricity.
Under the terms of the Agreement, Adecoagro will assist FMN in the management and sustainable development of its Kaboji Farm, one of the largest commercial farms in Nigeria comprising 10,000 hectares near Kontagora, Niger State dedicated mainly to the cultivation of maize and soybean.
The Technical Assistance Agreement envisages a mutually rewarding co-operation between the two leading companies (FMN and Adecoagro) with the purpose of increasing the historical crop yields, helping to provide sustainable agriculture, maximizing returns on the farm, creating jobs and enhancing value for farmers and achieve maximum yield and sustain profitability in the farm's operations.