UPI | 26 July 2013
China eyes food security options in Venezuela
CARACAS, Venezuela, July 26 (UPI) -- China is considering investment in Venezuela's agriculture industries as part of a global strategy to secure diverse sources of food supplies for its burgeoning population.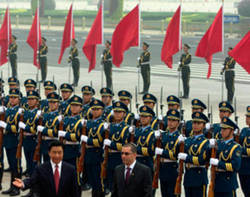 After Venezuela's Vice President Jorge Arreaza's visit to Beijing, senior Venezuelan officials announced that Chinese investment could cover 30 million hectares of land in the Latin American country.
Venezuelan agriculture has suffered under frequent state interventions -- from outright nationalization to implementation of agricultural policies criticized as being removed from reality.
Oil-rich Venezuela is recovering slowly from a recession the government blames on weather vagaries, including frequent drought conditions. Opposition critics say state mismanagement of agriculture is partly to blame.
Venezuelan Vice President Jorge Arreaza indicates his talks in Beijing gave him hope joint ventures involving China could bring great benefit to a sector seen to be performing well before capacity.
Beiing has been touting its agricultural prowess and optimum exploitation of land resources. Critics cite China's environmental problems as an indication that progress has been patchy.
Venezuela under former President Hugo Chavez pursued close collaboration with China in energy, defense and security, and technology. Chavez died of cancer in March, soon after handing over power to hand-picked successor Nicolas Maduro. President Maduro's inner circle includes Arreaza, husband to the late Chavez' eldest daughter Rosa Virgina.
Before he was appointed vice president under Maduro, Arreaza was minister of science and technology.
Arreaza indicated that bilateral talks on agricultural collaboration advanced after Chinese Vice President Li Yuanchao visited the country in May. "Venezuela has 30 million hectares of prime land and great agricultural potential."
Arreaza said Venezuela's agriculture suffered from lack of inaction by its absentee landowners. He blamed "bourgeois" landowners for the problem.
Both Chinese and Venezuelan officials say China has every reason to be driven by the need to build agriculture-based alliances worldwide. China's own soil has limited potential, which has been further diminished by recent urbanization in rural areas.
Arreaza discounted criticism of Chinese interest in Venezuela's land, blaming it on opponents inspired by "U.S. imperialism" and past U.S. policies in the region. Both Chavez and Maduro have blown hot and cold on normalizing ties with Washington.
One of the ideas being pursued in Venezuela will be modeled after a Chinese model for establishing special economic zones to stimulate the economy, he said.
Maduro's government aims to continue Chavez's ideal of reversing a prolonged neglect of Venezuelan agricultural sector that began with the discovery of oil in the 1950s.
Right up to the start of the oil boom, agriculture, fishing and forestry earned more than half of the national income. By 1988 that ratio dropped to 5.9 percent of Venezuela's gross domestic product, the rest supported by industrialization and oil exports, both of which declined in later years due to a spate of nationalizations by Chavez.
Read more:
http://www.upi.com/Science_News/Technology/2013/07/26/China-eyes-food-security-options-in-Venezuela/UPI-29031374816180/#ixzz2dNaXVLPF