Farm Weekly | 17 August 2013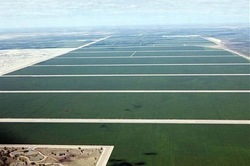 Cubbie Station was sold to a primarily foreign-owned consortium in September last year.
Don't sell our farms: Greens
by KATIE MCROBERT
WHILE the ALP has drawn ire from the farming sector for endorsing agricultural foreign investment, the Australian Greens proposed a stricter foreign ownership policy at a launch in Brisbane on Saturday morning.
Greens Leader Senator Christine Milne said the government should be cracking down on foreign investors buying up Australian farms to protect not only the economy but also long-term food security.
"Australia is one of the countries being targeted by foreign buyers to secure their nation's own food security," Senator Milne said.
"Keeping control of our prime agricultural land water resources is critical to maximise our own resilience and provide exports to the global market."
The Greens this week blasted Mr Rudd's idea of lowering the barriers to foreign ownership for northern Australia, saying the ALP's northern development plan "undermines our sovereignty and risks sustainability", while federal Agriculture Minister Joel Fitzgibbon was recently criticised by National Senators for his stance on overseas investment.
Speaking at the Australian Grains Industry Conference in Melbourne in July, Minister ­Fitzgibbon said the agricultural industry needed to embrace an influx of foreign funds.
"If we really want to capitalise on the opportunities Asia offers us, we will need a lot of capital, we will need a lot of investment," he said.
"Our national interest is first and foremost. We should embrace foreign investment, not fear it."
Mr Fitzgibbon's comments came as the Foreign Investment Review Board (FIRB) considers US company Archer Daniels Midland's (ADM) proposed $3 billion takeover of agribusiness GrainCorp, Australia's only independent grain handler, a move strongly opposed by Coalition Senators Fiona Nash and Bill Heffernan.
In launching its 'Our Food Future' policy on August 8, the Greens called for a lowering of the threshold from $248 million to $5m for consideration of the national interest purchases of agricultural land and water, including cumulative purchases, to legislate a mandatory national interest test and maintain a live register of foreign ownership of agricultural land and water assets to track overseas purchases.
"Figures released by the Australian Bureau of Statistics in 2011 revealed more than 45 million hectares of Australia's prime agricultural land was foreign owned," Senator Milne said.
"But the survey was far from conclusive because we have no register of how many farms and water licences are foreign owned."
In June, the National Farmers' Federation (NFF) welcomed the release of a Senate Committee report that recognised the need for greater information about foreign investment in Australian agriculture, including development of a register of agricultural land, agribusiness and water entitlements.
A survey conducted in April this year of Australia's top insolvency specialists found at least 80 major farming operations, each worth more than $1 million, were either in receivership or some form of financial distress.
As increasing numbers of overseas investors snap up farming enterprises - such as Australia's biggest irrigator, Queensland's Cubbie Station, sold to a Chinese-led consortium in 2012 - Port Jackson Partners recently estimated (in an ANZ-commissioned report) that $400 billion would be needed to support farm turnover in Australia by 2050.
The National Party's vocal criticism of the Cubbie sale highlighted lingering divisions within the Coalition on foreign investment, as Liberal MPs Joe Hockey and Christopher Pyne bickered with Senators Fiona Nash and Barnaby Joyce over FIRB regulations.
"The current inadequate scrutiny by the FIRB over the sale of our land and water is failing to protect our national interest," Senator Milne said.
"We do not even keep accurate records on the levels of foreign ownership despite multi-partisan support for the creation of a national register to track overseas purchases.
"At the moment, a foreign investor can make purchases of up to $248 million before they are subject to scrutiny by FIRB. On top of that the FIRB is not required to take into account cumulative purchases by the same foreign entity allowing creeping ownership.
"Other countries with significant agricultural assets including the US, New Zealand, Argentina, China and Brazil have more stringent restrictions and greater levels of scrutiny on foreign purchase of land."
Senator Milne said with climate change driving global crop collapse, the food security issue would worsen over the next few years to a point where food "will become the new oil, dominating geopolitical considerations".
"In 2010, the Greens introduced a bill to change the way the FIRB treats acquisition of our agricultural land and water resources but this was not supported by Labor or the Coalition," she said.
"While Kevin Rudd and Tony Abbott turn their backs on farmers, the Greens will be working hard in the Senate to keep our land and water in Australian hands."
In discussing the June Senate Committee report, NFF chief executive Matt Linnegar said, "foreign investment has traditionally been very positive for Australian agriculture and it is important that we do not deter this investment," but noted Australian farmers want to see greater transparency around that investment.