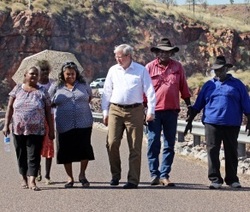 The Rudd government wants to simplify investment rules for companies - possibly international firms - wanting to invest in farmland
The West Australian | August 16, 2013
Rudd vows to double farm land in north
Nick Butterly Kununurra
Kevin Rudd has committed to the third stage of the Ord River Irrigation Scheme, a move that will eventually almost double the amount of land for farming under the huge agricultural program.
The Prime Minister committed to the next stage as part of a wider pledge yesterday to invigorate Australia's north and position the country to take advantage of the predicted explosion in Asian demand for quality fresh produce. Mr Rudd flew into Kununurra yesterday for a whirlwind visit to Lake Argyle, part of the Ord River scheme.
The PM said Labor would kickstart stage three of the project by giving the Northern Territory Government $10 million to help settle native title claims on its part of the Ord scheme land.
The third stage will increase the land open to farming from 29,000ha to 43,000ha. The Federal Government said the expansion would increase the economic output of northern Australia by $150 million a year.
It wants to simplify investment rules for companies - possibly international firms - wanting to invest across the Top End.
Last year, the WA Government struck a deal with a Chinese company, allowing vast tracts of agricultural land fed by the scheme to be developed.
Under the $700 million deal, Shanghai Zhongfu leased more than 13,000ha for up to 50 years.
Shire of Wyndam president John Moulden said most locals welcomed foreign investment.
He said sugar would likely be the main crop but also sorghum for ethanol and health food chia.
A Chinese company will build a $450 million sugar mill near Kununurra to produce four million tonnes of sugar cane and 500,000 tonnes of export sugar crystal.