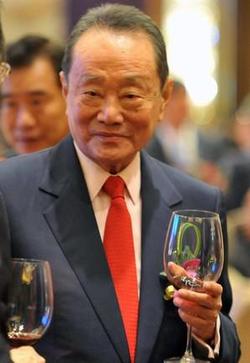 Wilmar wants to produce sugar in Burma
Forbes | 8 August 2013

Robert Kuok's Plantation Firm Eyes Myanmar As Next Sugar Frontier
Singapore-listed
Wilmar International
said Wednesday that its net profit in the second quarter
rose 87%
to $219 million. Stronger sales of oil palm and other edible oils boosted the bottom line of the company, which is controlled by Malaysian billionaire
Robert Kuok.
Oil palm prices may have been trading lately at three-year lows, but plantation firms like Wilmar are busy scouting for new pastures for the tropical fruit. The edible oil has become the go-to choice for cost-cutting food manufacturers, and this soaring demand has fed decades of expansion in Indonesia and Malaysia. But there are signs that Indonesia, for one, is cooling on the allocation of land for plantations: Wilmar
said
last month that a joint venture with Noble Group to produce palm oil in eastern Papua province had stalled due to a lack of approvals. Jakarta has also raised the possibility of limits on plantation size, in part a reaction to the environmental fallout from unchecked forest clearance, including last month's eye-watering smog over Singapore.
Wilmar says it plans to expand its holdings in West Africa, which has a growing palm oil industry. This would mark a shift for the firm, which has only 4% of its planted area in Africa, according to Reuters. But perhaps equally intriguing, from the perspective of Southeast Asia's resource economy, is its target for sugar. CEO Kuok Khoon Hong told reporters that Wilmar wanted to produce sugar in Myanmar (Burma) and hoped to provide details in the next six months or so. Kuok, the nephew of Robert Kuok, who made his first fortune from sugar processing in Malaysia, didn't provide more details. But the fact that Wilmar is sniffing around Myanmar is no surprise. Myanmar is fertile land for plantation crops and has a domestic sugar industry that is too small to meet local demand. One reason is that its sugar milling facilities are rudimentary after decades of isolation and underinvestment.
That's an attractive proposition for Wilmar, or any other multinational commodities house that is attuned to sugar markets. The catch is land acquisition. Myanmar's rural population has been emboldened by the restoration of democracy and is demanding fairer land compensation, both for future projects and those that were rammed through under the old regime. Plantation companies need large-scale concessions to justify the risk and expense of entering a frontier market like Myanmar.

--

Reuters | August 8, 2013

Facing headwinds in Indonesia Singapore's Wilmar eyes Africa palm expansion

SINGAPORE: Singapore-listed Wilmar International Ltd is looking to expand its palm oil plantations in Africa and could start sugar operations in Myanmar, as its plans to find suitable land inIndonesia hit turbulence.
The company is eyeing opportunities to grow in Africa and hopes to give more details in the next six months or so on starting business in Myanmar, as the Southeast Asian nation sweeps aside decades of isolation, Chief Executive Kuok Khoon Hong told reporters on the sidelines of a briefing on Wednesday. He did not give further details.

Millions of hectares of forest in top producers Indonesia and Malaysia have been cleared for palm oil plantations, and planters are increasingly turning to the west coast of Africa as the industry's next frontier.

The collapse of a planned palm venture between Wilmar and Noble Group Ltd in the Indonesian region of Papua after they failed to win regulatory approval marked the latest setback for plantation firms trying to expand in that country. Kuok declined to give details on the venture with Noble.

Other firms such as Golden Agri-Resources Ltd are also finding it more difficult to get new licenses in the shadow of proposed changes to Indonesian law.

Indonesia has become a top investment destination in Southeast Asia, but regulatory uncertainty, especially in the banking and resources sectors, has been a source of concern for foreign investors.

At the start of 2013, Wilmar had around 255,648 hectares of planted area, with about 73 percent in Indonesia, 23 percent in East Malaysia and 4 percent in Africa.

SMOG BLANKET

Indonesia's plantation sector has been under heavier scrutiny in the wake of recent forest burning in Sumatra that caused one of Southeast Asia's worst air-pollution crises, blanketing neighbouringSingapore and Malaysia with record levels of smog.

"Given all the news in the press recently about haze in Indonesia and the burning of forest areas for plantation purposes, it's easy to imagine that local authorities may be more reluctant now than they have been in the past to give permits for palm oil plantations," said Bill Sullivan, a foreign legal counsel at Indonesian law firm Christian Teo Purwono & Partners.

Officials in the world's top palm oil producer are looking to limit the size of new plantations to 100,000 hectares, but details are yet to be finalised.

If the law is implemented, big palm oil companies such as Sime Darby Bhd and Kuala Lumpur KepongBhd may have to intensify their search for land in other markets or settle for slower earnings growth.

"Companies would like to expand as fast as they can, but operational challenges are making it more difficult," Richard Fung, Golden Agri's director of investor relations, said at an earnings briefing last week.

Golden Agri is one of the world's largest palm plantation companies with total planted area of 464,600 hectares in Indonesia.

Indonesia extended in May a moratorium on the issuance of new plantation and timber concessions in primary forests and peatland. Norway has agreed to provide the country with up to $1 billion in financing to help reduce deforestation.

"The movement for transparency is taking root within the Indonesian government, where reformers are working to streamline and strengthen processes for how the government allocates land," said Nigel Sizer, director of Global Forest Initiative at the World Resources Institute.

"It's also happening in the markets, where buyers are increasingly demanding sustainable and ethically-sourced products."