Eurasianet | 19 July 2013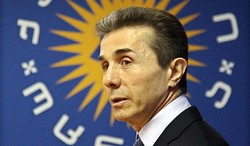 Georgia's Prime Minister Bidzina Ivanishvili

Georgia bans selling farm land to foreigners
The so-called invasion by
South Africa's Boers
never really happened, but
scores of Indians
settling in Georgia's wine country, Kakheti, prompted some local farmers to complain that they had been slighted by the government for foreigners. The foreign privatization of formally nobody's lands that locals often use for pasture and growing crops led to tensions with the newcomers.
Catering to these sentiments, nationalist politicians pushed for the ban. Some members of Prime Minister Bidzina Ivanishvili's ruling Georgian Dream coalition said that the move should be temporary until all Georgia's farming land gets categorized in a way that would grant villagers priority access to adjacent farm lands.The ban will be in effect through 2014.
Libertarian economists lambasted the move. "We might as well put a lock on Georgia," commented Paata Sheshelize, president of the New Economic School, to
Netgazeti.ge
. He argued that the bulk of Georgia's agricultural lands remain unused and that investments from foreign farmers are a boon for the Georgian economy, which can use
all the boons
it can get these days.
President Mikheil Saakashvili, who used to favor a more liberal land policy until his United National Movement
lost the legislative majority
last October to the rival Georgian Dream, has not elaborated about his reasons for signing
the bill
.