Wall Street Journal | 25 July 2013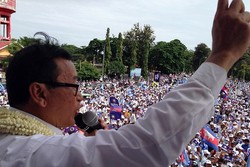 Opposition leader Sam Rainsy is shown speaking to supporters Thursday in Svay Rieng province, in a photo released by the Cambodia National Rescue Party (Photo: Agence France-Presse/Getty Images).
Cambodia opposition taps Into 'land grab' anger
By Chun Han Wong and Sun Narin Connect
ANDONG MEAS, Cambodia—Prime Minister Hun Sen, Cambodia's longtime strongman, seems set to win re-election this Sunday, but festering land conflicts have hurt his party's standing and could undercut the country's fragile development.
This year's campaign—the fifth since a 1991 cease-fire ended decades of civil war and genocide—has been Cambodia's most peaceful yet, testament to improving stability in one of Southeast Asia's fastest-growing economies. Even so, the country's weak yet energetic opposition reckons it can gain ground on Mr. Hun Sen, currently Asia's longest-serving prime minister with 28 years in the post, even if he wins a fresh five-year term.
Their hopes rest upon rising disaffection with the government's freewheeling issuance of economic land concessions—a controversial policy aimed at boosting agricultural exports but blamed by rights groups for a "land-grabbing crisis" that has denuded large swaths of Cambodian forests and robbed rural communities of their vitality.
"Land grabs are wrong. They are cruel and they must end," opposition leader Sam Rainsy told supporters this week on campaign stops across the country. "We will rescue Cambodia's forests and natural resources."
Already, the government has transferred control of 2.6 million hectares of land to private business from mostly subsistence farmers, according to rights groups, affecting 700,000 people and 73% of the country's arable land in the past decade. The problem is partly a legacy of Cambodia's genocidal Khmer Rouge regime,which outlawed private-property ownership during its radical Marxist rule from 1975 to 1979, leaving many people without land titles.
"Land grabs pose the single biggest challenge to social stability in Cambodia," said Megan MacInnes, senior land campaigner at Global Witness, a London-based human-rights group. "More and more ordinary Cambodians are being pushed into poverty from losing their land and forests, yet the government continues to lease out land to any investor who'll take it."
The government defends the land concessions as integral to economic growth in one of the world's least-developed countries. About 30% of Cambodia's population still lives below the national poverty line, spending below 61 cents a day, while foreign aid provides roughly half of the annual budget of about $3 billion.
"Keeping our forests without any consumption is useless. We are trying to make our forests valuable through investment," said Cheam Yeap, a lawmaker from the ruling Cambodian People's Party and chairman of the parliamentary commission on finance, economy, banking and auditing.
Despite growing anger, gains for the opposition are far from assured. Few expect Mr. Rainsy's Cambodia National Rescue Party—the country's main opposition force—to come close to winning power from the ruling CPP, which benefits from superior political machinery, financing from local tycoons and a mostly muzzled domestic media.
The stakes are nonetheless high. Urban residents are increasingly disenchanted with rising youth unemployment and rampant corruption, while rural voters grow wary of commercial encroachment in the countryside—where the CPP has long been the dominant and most visible political force. Many also worry the country's development model isn't sustainable, given its heavy reliance upon garment manufacturing and agribusinesses that has provided jobs but also led to social dislocation and environmental degradation.
Mr. Hun Sen and his CPP won 90 out of 123 legislative seats in 2008 with about 58% of the vote. If opposition forces add to the 29 seats they won five years ago, they hope to intensify pressure on the prime minister to scale back land concessions and accelerate efforts to award land titles to rural residents.
Any remedy, however, may come too late for many Cambodians, including those in the northeastern Ratanakiri province, where several Vietnamese rubber firms have planted their flags.
"The Vietnamese took this land away from me, three hectares in all," said Kosal Teuy, a wiry 68-year-old farmer from Ratanakiri's Andong Meas district, as he gestured at a vast plot of rubber saplings that stretched toward distant treelines over a mile away. Under the government's land-concession policy, a Vietnamese rubber firm, Company 75, started clearing part of Mr. Teuy's five-hectare plot last year, reducing cassava harvests on which he and four of his nine sons have subsisted.
"They even killed two of my buffaloes that strayed onto their plantation," said Mr. Teuy, a member of the minority Kachok ethnic group. "I want my land back."
A Company 75 plantation manager said they have resolved all disputes with residents, but local officials say many complaints still remain unsettled.
"In theory such development can help Cambodia, but people here—many from indigenous groups—haven't benefited," said Tha Bunlom, chief of the Ta Lav commune, where Mr. Teuy lives. "Concessions are destroying their farmland, their hunting grounds and their culture."
Some 30 to 40 families in Ta Lav have been affected since Vietnamese rubber firms started arriving in 2009, said Mr. Bunlom. "Residents are losing faith in the government. Some have switched to supporting the opposition."
The government has taken notice. In May 2012, Mr. Hun Sen declared a moratorium on new economic land concessions, before launching in December a land-titling program to distribute 1.8 million hectares to rural residents.
But the moratorium doesn't bar officials from granting concessions already "agreed in principle," a murky area since there are no public records of such agreements. Cambodia's land laws provide sufficient tools for tackling land grabs, although activists say enforcement is lax and state forces have sometimes assisted evictions and arrested protesters.
U.S.-based Human Rights Watch and LICADHO, a local human rights group, have also criticized the land-titling program—which has processed about 830,000 hectares and awarded roughly 380,000 titles as of June—for alleged abuses including campaign-related coercion and favoritism toward CPP supporters. The government discounted such criticism, saying the program has helped many rural residents.
In Ratanakiri, residents want more help. Their province is marginal—yielding just one parliamentary seat that has always gone to the CPP—but they hope a stronger opposition showing this year would prod officials into action.
"I'm worried for the next generation. They may not have land to live and farm on," said Phan Phorn, a 48-year-old grocer in Andong Meas' Malik commune. She fears that her four hectares of land, leased to a neighbor to grow cassava, may soon be lost to land concessions.
"If we keep voting for the same party, things will remain the same," she said. "I want change."
Write to Chun Han Wong at
[email protected]