Jakarta Globe | 7 July 2013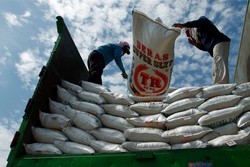 Workers throw a sack of rice onto a ship that will transport the rice to Sumatra Island, at Sunda Kelapa port in Jakarta April 1, 2013. (Reuters Photo/Beawiharta)
Malaysia, China investors eyeing Indonesian rice
By Dion Bisara
A group of Malaysia and Chinese investors are looking to invest as much as $2 billion in Indonesia's integrated rice farms in the next seven years, trying to take advantage of Indonesian consumers growing buying power.
Ratu Indah Mandiri, a joint venture from the Malaysian and Chinese investors, said the company is seeking a 50,000-hectare trial plot of land in either Java or Kalimantan. It will eventually invest for up to 1 million hectares on rice plantations in the seven-year period.
The company will work with local company Tri Indah Mandiri, said Norah Abd Rahman, Ratu Indah president commissioner, after a signing of memorandum of understanding in Keraton at The Plaza Hotel in Jakarta on Friday.
"We chose Indonesia because of its bigger choice of land and the need for it is there due to your large population," she said.
Rice is the main staple for many of Indonesia's more than 240 million people, with per capita consumption at up to 139 kilograms.
Ratu Indah will supply downstream technology and processing capabilities, while Tri Indah will take care of local operations — working with local farmers in producing rice. Norah, who is also a member of parliament in Malaysia, said Ratu Indah will bring technology to produce rice bran oil from the rise husk.
"Rather than throwing away the husk, we can produce the oil and sell it at premium," she said.
Norah also said that the company will burn the husks to generate power for its rice mills and use the ashes left — which is rich with silica — in tire manufacturing. Ratu Indah wants to build a research and development center in Indonesia, bringing scientists from China to develop high-yield rice strains and rice-processing downstream technology here in collaboration with local universities, Norah said.
Made Dwipayana, president director of Tri Indah Mandiri, said that the company currently is fostering cooperation with local farmers across Java for trial plot of the projects.
"We have also sought a plot in Kalimantan, but that would need a lot of work and would be riskier than Java as a choice for the plot," Made said, adding that Tri Indah would work together with local farmers to increase rice yields.
"Meanwhile, our partnership will create mills and other downstream-processing facilities across the country to process the yield," he said. Tri Indah currently operates as a fertilizer and rice company.