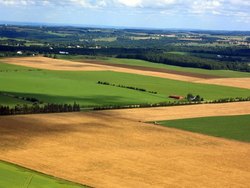 It was about six years ago that the mega quarry proponents first began acquiring land in the fertile region about 90 minutes north of Toronto, initially putting the word out that it was for potatoes. Courtesy of Bryan Davies Photography
Financial Post 13.7.2013
Mega quarry land north of Toronto bought by burgeoning farm fund Bonnefield
John Greenwood
A controversial plan to build a massive quarry in rolling farmland north of Toronto appears officially dead in the water after a US$20-billion hedge fund in Boston agreed to sell the land on which the project was to be located.
Bonnefield Financial, a farmland investment company based in Ottawa, announced this week that it has acquired about 6,500 acres of lush Dufferin County potato fields in what it called one of the largest farmland transactions in Canadian history.
Financial details were not disclosed however Tom Eisenhauer, the president, acknowledged the price was "more than $50-million, a lot of money."
Speaking in a phone interview, Mr. Eisenhauer insisted Bonnefield is only interested in agriculture. "Our investors want exposure to farming," he said. "They don't want exposure to oil and gas, or quarries for that matter."
Formed in 2010, Bonnefield calls itself Canada's only national farmland investment management company. Typically that involves buying up farms and leasing them back to farmers. So far it's raised about $150-million from accredited investors, acquiring about 35,000 acres in Alberta, Saskatchewan, Manitoba, Ontario and New Brunswick.
It was about six years ago that the mega quarry proponents first began acquiring land in the fertile region about 90 minutes north of Toronto, initially putting the word out that it was for potatoes.
The area is notable for its rich soil, perfect for crop growing. But it was what was beneath the soil that had attracted Boston-based Baupost Group.
Limestone, used to make what's called aggregate in the construction trade, is in high demand in fast developing Toronto, where it's a key ingredient in concrete used to build everything from roads, to office towers and condos.
Suspicions began to mount that Highland Companies, a Canadian group backed by Baupost, had something else in mind. In 2011 they submitted an application to the Ontario Government to build a quarry on about 2,300 hectares, sparking a wave of protest, as local farmers allied with artists and the well-heeled Bay Street types who own weekend properties in the area began to make their voices heard.
Had the project gone ahead it would have been the largest quarry in Canada covering over 2,200 acres, according to critics.
It would likely have been highly profitable, as well.
But it didn't go ahead. At the end of 2012 Highland announced it was abandoning its plan, citing lack of government and local support. The news was cause for celebration by the coalition of opponents, but that soon turned to worry about what would happen next. After all, despite Highland's new intentions it still owned the land and at least in theory it could eventually try to revive its project.
While farmland investment funds such as Bonnefield are still a novel concept in Canada, internationally the concept has gained considerable attention particularly over the past decade as rising crop prices and booming demand for farmland helped push up values.
According to the Conference Board of Canada, and perhaps against many stereotypes, farming can be good business. Nearly one-third of Canadian farms had average profit margins of more than 30% since 2000, it said in a recent report.
In the U.S., farmland in the Midwest is highly sought after by investment funds, helping to spur huge annual price increases, and fat returns for the owners. Meanwhile, European and Chinese funds have been moving in to developing regions such as Africa and South America, attracting controversy but also making money.
In Canada there are a handful of players, including Alberta-based AgCapita Farmland Investment, Regina-based Assiniboia Capital Corporation and Bonnefield. Bonnefield's Mr. Eisenhauer said the firm goes to considerable lengths to integrate into farming communities instead of showing up as a competitor.
Modern farming is capital intensive and many growers face enormous challenges financing their operations. So typically Bonnefield approaches farmers with offers of financing which often includes buying land and leasing it back.
"Demand for our services from the farming community way outstrips our [financial capacity]."
Mr. Eisenhauer began his career as an investment banker with TD Securities, later becoming managing partner of Latitude Partners, a private equity fund specializing in technology companies.
After selling his stake in the business in 2008 just prior to the financial crisis, he began looking for something else to do. Booming agricultural commodities soon drew his interest and he began casting about for ways to invest.
"We spent the first two years just going about the country and talking to farmers about how we could do this and what their needs are," he said. "We raised our first fund in 2010, but it was frankly our own money to get the ball rolling."
The company is now half way through completing its third fund and the business model is set. The focus is on agriculture and the outlook is long term.
"We think of ourselves as providers of capital for farmers. We're not interested in paying development premiums because land might be turned into a Wal-Mart."
So the people of Dufferin County can rest easy knowing that their rolling farmland will be used for potatoes rather than quarries, at least as long as Bonnefield sticks to its business model.