Reuters | 17 July 2013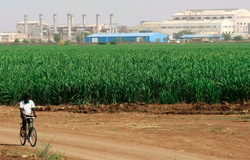 A worker rides a bicycle past a sugar cane plantation 270 km (170 miles) south of Khartoum May 14, 2013. (Photo: REUTERS/Mohamed Nureldin Abdallah)
Land 'grab' realities, perceptions vary markedly - researcher
by Erin Berger
LONDON (Thomson Reuters Foundation) - Large-scale land deals in Africa should be cause for concern, but whether they're good or bad is not a black-and-white issue – and much of what we think we know about them is wrong, a land expert says in a new book.
Land "grabbing" in Africa has become a polarizing issue, says Lorenzo Cotula, a senior researcher at the International Institute for Environment and Development (IIED), in his new book, The Great African Land Grab?
Many people are concerned about the harm to human rights, the environment and local people and economies that often accompany large-scale land acquisitions. Others argue that these deals will bring about speedy development. While strong public engagement on the issue is good, the researcher said, misconceptions exist on both sides.
"We are at the stage where it's more helpful to have a more constructive debate," said Cotula, who spent six years researching the topic in countries such as Mozambique, Ghana and Mali. "The book attempts to look at the evidence while staying clear of the sensationalism that has been around some of these issues."
Much of The Great African Land Grab? focuses on how much is unclear about the problem in the first place, including basic issues such as how much land is being acquired, who is buying it, and for what reason.
"We're witnessing a phenomenon that requires action because it affects so profoundly the lives of many," Cotula said. "But first we need to properly understand what that phenomenon is."
One major point of contention is the actual scale of land acquisitions. Cotula found that the overall number of land deals tends to be overstated by independent reports and the media. This is because lots of potential deals are reported but never actually go through, for example.
"This shouldn't be grounds for complacency," the researcher said. "It's still going on at a scale that's concerning."
What's particularly important, he said, is not the overall scale of acquisitions, but "how deals are increasing pressures at a local level." Even failed deals can exacerbate existing pressures on the land, he said.
A great deal of misconception also surrounds who is buying or renting the most land. Cotula said a common perception is that China and the Middle East are big players. But in fact, current evidence suggests that the total area of China's confirmed land deals in Africa would be equal to just one by a company listed on the Singapore Stock Exchange. In reality, he said, far more land deals involve European and North American companies.
Powerful people in the countries themselves – large-scale farmers, civil servants, traders and politicians among them – also account for a major portion of land acquisitions. A World Bank study, spanning 2004-09, reported that nationals were often responsible for anywhere from 50 to 97 percent of land deals in their countries.
Land deals affect people at a local level in different ways, Cotula said. Some may benefit while others are harmed by the changes.
"A degree of complexity emerges when you talk to villagers and find that not everyone has the same views in relation to the project," Cotula said. But the overall effect tends to be negative, he said.
Examining models and case studies on different forms of investment in agriculture, and how they work in different contexts, could be useful in helping people make good decisions, Cotula said.
"I don't think there's a solution that works everywhere, but there is a need for stronger local voices, rights and safeguards, to ensure that people can have greater control over their own future," he said. "Let people make up their minds as to what model they want to pursue."
There has been a wave of local mobilization against unfair land deals in recent years. Where locals have taken action in a variety of ways, such as going to court, holding public protests and bringing their concerns to lenders or an industry roundtable, governments have sometimes responded by shifting their policy and becoming more cautious about land deals, Cotula said.
"It's important to think this through because the choices you make in terms of (what) investments to go for will have long term implications for your own development pathway," Cotula warned. "What needs to happen is a change in perspective where it's not about attracting investment, but about bettering lives."