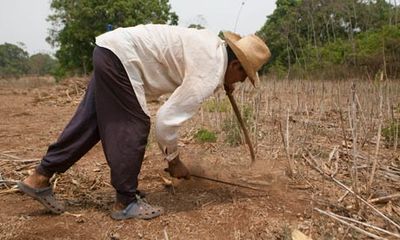 Priced out … Guatemalan farmer Victor Manuel Vasquez tends his land. Industrial plantations are affecting livelihoods. (Photo: Juan Manuel Barrero Bueno/Oxfam)
"We no longer have land to grow on because the owners of the land told us that this will be our last harvest there," says Moisés Morales, president of the Amanecer farmers' association. Sugar cane growers, they were told, had offered double the rent that the corn growers paid. The corn farmers couldn't match the price.
The plots farmed by the Amanecer members used to be among thousands of corn farms in the municipality of Taxisco. Today they are surrounded by a sea of sugar cane fields. Most small plots have been bought up and crowded out by expanding cane farms. Many corn farmers have left the area for the low foothills of nearby mountains "where cane harvesting machines can't go", says Morales.