China Investment Tracker | 26 June 2013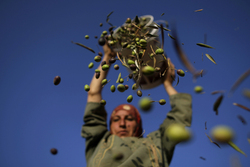 Chinese and Russian investors are discreetly looking to buy olive plantations and processing plants, both in Spain's main producing regions and in Portugal.

Olive oil: China hits the grove
Steep growth in Chinese olive oil consumption, unlikely to be met soon by a budding domestic supply, is encouraging investors to get hold of olive farms and processing plants in producing countries. Crashed land prices and, allegedly, EU subsidies make Spanish groves attractive, but Australia, closer to China and with harvests counter-season to Europe, has seen purchases that likely mean a sixth of its olive-growing land is now Chinese-owned. Meanwhile, a delegation of potential investors invited by Greece's state-asset privatiser HRADF looks at big-figure deals up for grabs, like Europe's largest ferronickel smelter, alongside olive plantations and oil factories.
Olive oil accounts for a meagre 1% of edible fat and oil sales in China, but the fact that most of the supply comes from abroad makes the country the seventh olive oil importer worldwide, and a fast grower (imports rose by 55% in 2011). While a recent boost in olive grove planting (mainly in Sichuan, Gansu and Anhui, often in cooperation with Spanish investors and technicians) could presage a larger share for locally-produced oil in years to come, currently nearly all the oil sold in China is imported, either packaged or in bulk (to be repackaged and sold mostly by large actors in the domestic oil market, chief among them Wilmar International subsidiary Yihai Kerry 益海嘉里). Over half of the imports come from Spain. Concerns about fraud led Chinese authorities to increase scrutiny of Italian imports since last year, but Italy still likely provides about one fifth of the total imports1.
Strine groves
Australian olive oil might be less renowned than others, but local producers boast of higher quality standards and stricter controls than those enforced in the perennially-doubted Mediterranean. Counter-season availability (crucial to a product with a shelf life of a few months) and sheer geography can make investment in Australian olive oil production look attractive to Chinese eyes. The most publicised Chinese investment to date in this sector has indeed taken place Down Under: last October, battered Kailis Organic Olive Groves, a grower and processor that used to own several thousand hectares of plantations in Western Australia, was sold to Chinese investors for $15m.
A larger deal, apparently unnoticed by local media, had been closed a few months earlier. Jiangxi Qinglong 青龙 Group, a company with interests in real estate development, hospitality, biopharming and, more pertinently, tea-seed oil, invested more than $30m in land including 5000 ha of olive groves, as well as a half of the shares in Tatiara Olive Processing, a major processor in Keith, South Australia.
That's a rather large surface (the largest Australian olive farmer, Boundary Bend, manages 6400 ha), and the projected annual yields quoted in the Chinese press would suffice to supply all the Australian oil currently sold to China per year. Should these figures, quoted in an article that relies heavily on corporate and government sources, be accurate, Qinglong alone would possess at least 13% of Australian olive plantations (out of a total reported between 30k and 38k hectares). Given that the Kailis groves sold to Chinese investors are likely to cover more than a thousand hectares, and that other smaller, less publicised purchases have also been taking place in recent years (witness the 2006 acquisition of vineyards and olive groves near Adelaide by Jiangsu Zhongyuan 中源 Mining group), it seems prudent to estimate that at least one sixth of Australian olive-growing land is now in Chinese hands.
A foot in Andalusia
The Andalusian province of Jaén produces around a fifth of the world's olive oil, and the town of Martos within it has alone over 20 thousand hectares of olive groves, more than entire producing countries like France or the US2. That is where Xichang 西昌, Sichuan-based Xilu Kangyuan (西昌市西露康源油橄榄科技发展有限公司) acquired a stake in a processing plant and olive plantations3, through locally established Almazara Orolivo. Xilu Kangyuan sells both oil from olives it grows in Sichuan and the brands it brings from Spain4.
Chinese and Russian investors, Spanish agricultural-sector media report, are discreetly looking to buy plantations and processing plants, both in Spain's main producing regions and in Portugal, where a Chinese appetite for oil farms has also made news. Lured by land prices that plunged after the property crash, these foreign buyers could also be hoping to benefit from EU support measures, claim farmers' union leaders .
Well-oiled deals
State-owned agribusiness giant Chongqing Grain Group (重庆粮食集团) has recently completed the purchase of an olive oil plant in Greece, without disclosing details about the deal. Claims identifying the acquisition as Nutria AE could not be independently confirmed.
Olive groves and processing plants in the Peloponnese and on the Aegean island of Euboeia were on the agenda for a reconnaissance tour by Chinese prospective investors organised by Greece's investment promotion agency, HRADF (the company overseeing the privatisation of Greek state assets) and a Chinese business magazine5. Items for sale included a 500 ha plot with olive orchards6 in Agiókampos, Aidipsós and an oil processing plant. These offers and meetings with an association of olive growers were scheduled to take up one and a half day of olive-oil related activities during a week-long trip. The attention given to these moderately valued investment opportunities seems to contrast with the high profile of an event meant to revolve around rather deals involving higher figures, such as the privatisation of ferronickel producer Larco, Europe's largest, or a purchase of the troubled Loutraki casino. Olive farms showcased next to key state-owned firms only highlight how eager Chinese investors are becoming to bookend the supply chain of a fast-growing product.
1 The scandal broke in December 2011, when La Repubblica, based on an enquiry led by agricultural organisation Coldiretti, denounced that up to four out of five bottles of extra-virgin oil sold as Italian is actually blended with product from other Mediterranean countries. Industry voices defended the practice, asserting that EU rules don't ban selling blended oil if labelled as such. Claims of widespread fraud in the olive oil industry are neither new nor restricted to Italy.
Reports based on Italian and International Olive Oil Council statistics indicate that Chinese imports of Italian olive oil continued to grow since the scandal, while losing market share to Spain.
Last March, Italy's Ministry of Agricultural, Food and Forestry Policy and AQSIQ, the Chinese department responsible for quality inspections, signed an understanding on quality standards and control procedures for olive oil and other Italian products. The latest MOFCOM statistics available for imports of bulk olive oil show no significant change in Italy's market share between the last two quarters.
3 Their website provides rather confusing surface and production figures.
4 Xilu Kangyuan's legal representative is an official with both Almazara Orolivo and the Spanish company that owns the oil brands it markets in China.
5 The visit was planned for last week. As of yesterday, scheduled meetings with officials, such as Aléxandros Pnevmatikós, the mayor of Corinth, which could have been expected to be announced to local media, have apparently not been reported in the Greek-language press. Neither HRADF nor the Chinese Embassy in Greece had so far published news about the event.
6 Olive groves cover only a fraction of the estate. The number of trees mentioned in the advert could be planted on just 80 ha.