Caixin | 20 June 2013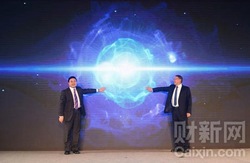 China's Legend Holdings went on a buying binge, both at home and abroad, taking over a blueberry farm in Qingdao, a kiwi fruit company in Sichuan Province and five Chilean fruit companies soon after it was established.
By Yu Ning and He Chunmei
(Beijing) – An increasing numbers of Chinese consumers are willing to pay more for high-quality food as their living standards improve.
This development has not gone unnoticed by the agriculture industry and investment company Legend Holdings Ltd., which created a subsidiary called Joyvio Group in August 2012 to send into the fields.
On May 8, Joyvio introduced a brand of premium agricultural products. Its blueberries went on sale that day, selling for nearly 30 yuan for a 125 gram box in a high-end supermarket in Beijing. The company's kiwi fruits will reach stores in November, a company source said.
In preparation for entering the fruit business, Legend invested more than 1 billion yuan over the past three years. In 2010, it spent millions of yuan to hire a consulting firm to research the agriculture industry. It eventually decided to offer premium products, namely blueberries and kiwis to start. Legend wanted Joyvio Group to oversee every step of the industrial chain.
Executives involved in the new venture understood patience was key.
"It takes time to do well in the agricultural sector," said Chen Shaopeng, managing director of Joyvio Group.
"We are not in a hurry to make money," Liu Chuanzhi, chairman of Legend Holdings, said.
After it was established, Joyvio went on a buying binge, both at home and abroad. It bought Wallen Blueberry Fruits Co. Ltd., a planting company in Qingdao, Shandong Province; a kiwi fruit company called China New Agriculture in Sichuan Province; and five Chilean fruit companies.
Setting up the nearly 670 hectare blueberry farm in Qingdao will require investment of 400 million yuan over the first four years, Chen said. The money would be spent on land, seedlings and irrigation facilities, and the farm would take about 10 years to become profitable.
The company had a production target of 10,000 tons in 2017, Chen said, up from the current 2,000 tons.
Kiwi production was expected to reach 100,000 tons in five years. So far, Joyvio has kiwi farms in Sichuan, Shaanxi and Henan.
Only a few agricultural enterprises in China have entered the upstream planting sector, and it does not appear many others are interested. It was unlikely that China National Cereals, Oils and Foodstuffs Corp. would tap into the growing industry, company chairman Ning Gaoning has said.
Outdated planting technology, a lack of skilled workers and the difficulty in managing scattered farmers were all seen as barriers to entering the market.
Several industry insiders say China is still in the early stages of industrializing agriculture, and Legend would face many challenges, such teaching farmers new methods so unified product standards could be met and finding enough managers to monitor farmers.
A Tough Row to Hoe
A major bottleneck to growing blueberries is a shortage of skilled workers. The berries do not all ripen at the same time, requiring workers to pick only the ones that were ready, Chen said. Pickers also had to be careful because the berries were fragile.
Legend has cooperated with vocational schools to train skilled workers to follow the company's standards so production can increase. The company has also recruited university students who majored in horticulture with the aim of training them to be farm supervisors.
Joyvio Group is employing two models to work with farmers, Chen said. First, it rented land from them and planted fruit on its own. Second, the company has signed agreements with farmers who own more than 33 hectares of land. These farmers grow the fruit, but are managed by Joyvio.
The company is also experimenting with a third way that would see Joyvio cooperate with farmers who own a planting company. Joyvio would send supervisors and quality control staff to the farms to ensure fertilizer and pesticides were used in line with company standards.
Industry insiders said it was key that Legend properly managed farmers.
"How do you guarantee farmers do not to fall asleep at the blueberry-growing bases?" an investor source who engages in agricultural business said. "And how do you to ensure they don't abuse pesticides to increase production and ignore quality?"
Joyvio has set plans for each planting base and informed farmers of its requirements, product standards and food safety issues. Legend has also pursued ways for management to use information technology systems to monitor farmers.
While focusing on planting issues, Legend is cooperating with logistics and sales companies to handle the fruit it has grown.
"We have selected professional logistics companies with cold-storage facilities and sales providers," Chen said. "There are four major sales channels for Joyvio's products, namely upscale shopping malls and supermarkets, fruit retail chains, group-buying customers and online sales."
Liu said that once the Joyvio brand is established and the premium fruits are well-received by customers, the company would try to copy the business model in other agriculture areas.