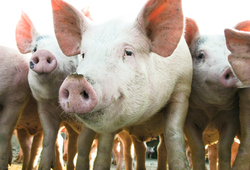 Bloomberg | Jun 12, 2013
Smithfield Embodies China's Record Hunger for Farm Assets
By Luzi Ann Javier & Michelle Yun
On a sunny March afternoon, 11 Chinese executives armed with digital cameras and iPads got out of a van on Brazil's highway BR-163 to photograph soybean-loaded trucks headed to export terminals in the south.
Dressed in polo shirts, jeans and boots, the officials from five state-owned companies that imported 40 percent of China's soybeans last year, had traveled six hours to see the oilseed being moved from farms to ports during a tour organized by Rabobank Groep. They're part of a growing Chinese contingent that's scouring the world for farm assets or food technologies that can be brought to the world's most-populous nation.
China is headed to spend a record this year on food assets and farms after a $32.7 billion splurge in the past five years and just $4.2 billion in the prior half-decade, data compiled by Bloomberg show. The drive for assets from Brazil to the U.S. and Australia has ignited concern by lawmakers only heightened by Shuanghui International Holdings Ltd.'s $4.7 billion deal to buy Smithfield Foods Inc. (SFD) of the U.S., the biggest hog producer.
"There is immense interest and exploration by Chinese investors right across the agriculture sector," said Michael Whitehead, agribusiness research director at Australia & New Zealand Banking Group Ltd. (ANZ) "We know of Chinese companies which are fairly well down the track in their due diligence of a whole range of things, whether it's dairy, wine, protein, or grain."
M&A Talks
China's announced purchases in agriculture including pastoral land, farm chemicals, processors and food companies, have already reached about $7.8 billion this year, compared with the record $8.1 billion in all of 2010, according to data compiled by Bloomberg.
In the mining and steel industries, deals are headed for the lowest since 2003, with China's acquisitions at $2 billion so far this year.
During the tour of Brazil led by the Netherlands' Rabobank, the Chinese executives, including heads of mergers and acquisitions, visited a soybean-crushing plant and a biodiesel plant. They met with large-scale farmers in Mato Grosso, the biggest soybean producing region, said Oswaldo Junqueira, head of trade commodity finance at the Utrecht-based lender's Sao Paulo unit.
"The trip provided opportunities for M&A discussions," said Junqueira, who accompanied the Chinese delegation on part of the tour.
Shuanghui's bid for Smithfield, which owns 460 farms and has contracts with 2,100 others across 12 U.S. states, would be the largest Chinese acquisition of a U.S. company and follows a string of global food and agricultural-related purchases.
Cotton & Water
In August, Australia approved the sale of Cubbie Station, the nation's biggest cotton farm and water rights holder, to a Chinese-led group for $235 million. Bright Food Group Co., China's second-largest food company, agreed in May last year to buy a 60 percent stake in British cereal manufacturer Weetabix Ltd., valuing the maker of Ready Brek and Alpen cereals at about 1.2 billion pounds ($1.9 billion).
China's acquisitions are being driven by the desire to secure volumes of safe produce for import and, in the longer-term, access to the transfer of technology, Craig Armitage, Advisory Global Leader for Food and Agriculture at PricewaterhouseCoopers New Zealand, said in e-mailed responses to questions from Bloomberg.
As well as established targets such as Australia and Brazil, there's growing opportunities for Chinese investment in southern Africa, parts of Russia and Europe, he said.
Intellectual Property
"Holdings in industry-leading farmers and processors around the world give Chinese companies access to the intellectual property that drives it all," said Christchurch, New Zealand-based Armitage, who cited China's food safety scandals, including the death of at least six infants in 2008 from tainted milk, as a motive for the overseas acquisitions. "This will ultimately drive a steeper increase in the productivity of China's domestic production."
China's push to secure more foreign agricultural assets followed a surge in global food prices in 2007 and 2008. With 20 percent of the world's population and just 8 percent of its farmland, China needs to spend $861 billion developing its farm sector through 2050 to produce crops and livestock to feed its people, the United Nations estimates.
Wheat and rice, the most consumed food grains, rallied to a record in 2008, while corn and soybeans reached all-time highs last year, topping earlier peaks of 2008. World food prices were little changed in May with an index of 55 food items tracked by the UN's Food & Agriculture Organization down 0.3 percent to 215.20 points. The gauge reached a record in February 2011.
Food Security
China's rapid urbanization, pollution and limited supply of arable land and water is prompting the nation to increase trade and investment with countries in southeast Asia, Australia and New Zealand, said Doug Ferguson, partner in charge of the Asia business group with KPMG Australia, who recently returned from China. Food security is "critically important," to the Chinese government, he said.
"I met approximately 25 agricultural companies and understand that there is genuine demand for investing not only in farms but more importantly, food processing plants and various technologies associated with food production," said Ferguson. "Chinese companies are often only interested in very large scale assets."
To be sure, China's farm and food asset acquisition drive may be hindered by stricter government controls. Brazil, the world's biggest producer of sugar and coffee, started adopting in 2010 a more restrictive rule on farm land ownership by foreigners that was already set by a four-decade old law.
Argentina approved in 2011 a bill that limits land ownership by overseas companies or individuals to 15 percent of rural areas, and 1,000 hectares each.
Foreign Ownership
The influx of foreign investment into Australia's agriculture assets prompted Prime Minister Julia Gillard to announce the introduction of a register of foreign farm holdings last October. Foreign ownership of land in Australia, the world's biggest producer of wool, has almost doubled since 1984, while almost 60 percent of raw sugar output and 40 percent of red meat production is controlled by foreign-owned companies, according to a government report in 2011.
The Smithfield accord, which needs regulator and shareholder approval, has sparked bipartisan concern, with Democrat Senator Debbie Stabenow, saying June 5 that the deal has implications for U.S. food safety. While Republican Senator Charles Grassley of Iowa, the largest hog-producing state, said last month that a sustainable food supply is critical to national security and urged a U.S. regulator to consider issues such as the role the Chinese government plays in Shuanghui.
China Rivals
China also faces competition from rival nations including Japan and commodity companies. Marubeni Corp. (8002) this week said it will pay $1 billion less for the U.S. grain merchandiser Gavilon Group LLC after excluding its energy assets, revising a deal first announced last May, while Mitsui & Co. took control of Brazil's Multigrain SA in 2011. Decatur, Illinois-based Archer-Daniels-Midland Co. (ADM) agreed this year to acquire Australian crop handler GrainCorp Ltd. (GNC) for A$2.2 billion ($2.05 billion).
Investor interest in land deals has accelerated since the spike in food prices and needs to be limited, Oxfam International, an Oxford-based aid organization, said on its website. According to an Oxfam report in October, an area of land the size of London is sold to foreign buyers every six days in poor countries.
"This is just a start of China's food entities identifying strategic partners and acquisition targets," PwC's Armitage said in an interview. For target countries, "it's a balancing act between attracting foreign capital and balancing the need for local production," he said.
To contact the reporters on this story: Luzi Ann Javier in Singapore at [email protected]; Michelle Yun in Hong Kong at [email protected]

To contact the editors responsible for this story: James Poole at [email protected]; Andrew Hobbs at [email protected] Jason Rogers at [email protected]