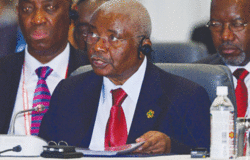 Mozambique's President Armando Guebuza rebuffs allegations that land-grabbing has taken place under the ProSavana project
Southern Times | 20130610
Peasants vs Big Business
By Charles Mangwiro
Maputo - Mozambique's President Armando Guebuza has rebuffed allegations that land-grabbing has taken place along the Nacala Corridor under the Japanese and Brazilian-supported ProSavana agriculture project in the north of the country.
Land rights activists have claimed that the project will deprive local farmers of their sole means of survival.
"Small farmers are really concerned about the project," Augusto Mafigo, president of Mozambique's National Peasants' Union, known by its Portuguese acronym as UNAC, said.
The ProSavana project is officially touted as a good example of private sector and constructive development aid-led growth.
It entails development of a vast area of intact savannah in northern Mozambique, covering more than 10 million hectares of land in three provinces.
The idea is premised on a 1970s project between Japan and Brazil in which Tokyo helped the latter open up land in the Cerrado savannah ‑ previously thought to be of little commercial value ‑ to soybean farming for export.
Brazil became a major soybean exporter and together with Japan, they want to replicate the project in Mozambique.
The Japan International Co-operation Agency says land rights activists have misunderstood the project. The agency says ProSavana will not only result in commercial farming, but will also impart critical skills to local farmers.
President Guebuza has responded thus: "We do not want to take land from farmers. On the contrary, the objective is to make available, with title, land for farmers and to make them more productive for the benefit of the farming communities."
However, the Civic Commission for Africa, which represented Japanese and African civil society groups at the recent Tokyo International Conference on African Development ‑ also expressed concerns that ProSavana is actually designed to promote agribusiness that will only benefit foreign companies.
Local farmers, they say, will be pushed off their land in what is becoming a "land-grabbing" trend across much of Africa.
Peasants' representative body UNAC last month wrote to the Japanese government calling for the project to be halted.
UNAC says its fears are premised on past experiences with foreign investors.
In 2010, they say, farmers in Tete Province were forced to move off their land after abundant coal reserves were found there.
According to UNAC, around 80 percent of the population is engaged in agriculture as a means of survival and roughly 90 percent of cultivated land is tended to by small, family-run farmers.
Africa's land has caught the eye of investors from across the globe.
According to Joshua Alter, in a research paper for Consultancy Africa Intelligence, the continent has over half of the world's arable, yet unused land.
"Over the last decade, food-importing nations and private companies have purchased land in poorer states, including in Africa.
"By all accounts, land grabbing is intensifying and spreading, especially in rural Africa.
"NGOs estimate that in Eastern Africa alone, 310 land deals have been completed since 2000," he says.
The International Land Coalition has estimated that between 2000 and 2010, some 261 million acres of arable land, mostly in Africa, was bought by investors.
The DRC and Ethiopia are two of the three states that have seen the largest amount of their land acquired since 2000, the NGO says.
Alter says the World Bank has been at the forefront of this "agro-investment".
He writes, "Oxfam claims that since 2008, 21 formal complaints have been brought against the World Bank by communities claiming that their land rights have been violated…
"(But) the World Bank rejected a call to suspend its involvement in large-scale agricultural land acquisitions.
"However, the World Bank's inspection panel, an independent accountability mechanism, is calling for an investigation into complaints about the Bank's policies and procedures in Ethiopia.
"Groups opposed to the practice of land grabs claim that the World Bank is partially responsible for these land grabs for two reasons. First, World Bank policies caused African governments to privatise land and focus on industrial farming.
"Second, by providing capital and guarantees to big multinational investors, the World Bank is exacerbating the global rush for farmland."
Land grabs, analysts say, increase the risk of food shortages and contribute to food insecurity. This is because foreign investors prioritise commercial crops such as coffee and tobacco. Food crops they grow are mainly their own staples, like potatoes and rice, and these are grown for foreign markets.
"By selling food rights to other states, African states are profiting at the expense of their own citizens. As an example, Madagascar's outgoing President agreed to sell a South Korean company a third of its arable land for US$6 billion.
"This deal was being consummated while half of Madagascar's citizens were suffering from food shortages," Alter says.
He suggests that African governments must strengthen their land legislation and implement strategies to ensure most of the food grown in Africa remains in Africa.
"Africa possesses over half of the world's arable yet unused land. But instead of using this land to eradicate hunger on the African continent, investors, speculators, and foreign governments began purchasing land to shore up their own food needs and make money.
"African governments should instead sell such land to African entities, or at the very least, entities that will be required to keep a portion of all grown food in the host state to feed the populace.
African governments must also reform land tenure and land registration laws to ensure that their citizens are not forced off land that they have farmed for generations.
"Only when African states control their land can they ensure that their citizens do not go hungry," Alter concludes.