Kyodo | 31 May 2013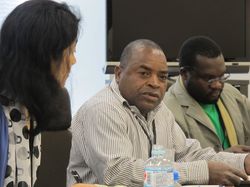 UNAC President Augusto Mafigo (centre) was in Japan on May 28, 2013 to present the Mozambican peasant union's position on ProSavana to members of the Japanese national parliament.
YOKOHAMA – Farmers in Mozambique are calling on the governments of Japan, Brazil and Mozambique to halt a project aimed at supporting agricultural development there, saying it will result in land grabs.
Members of the National Peasants Union, known as UNAC, which represents peasants across Mozambique, and representatives of international nongovernmental organizations issued an open letter Wednesday that the ProSavana program is designed to facilitate foreign investment and will jeopardize the local production system based on family-run agriculture.
Japan and Brazil agreed in 2009 to develop a vast area of savanna in northern Mozambique, encompassing more than 10 million hectares in three provinces. They planned to make use of their experience in developing Brazil's Cerrado savanna area for farming.
When the United States banned soybean exports in the 1970s, Japan helped Brazil, both financially and technologically, develop the Cerrado for agriculture in a bid to stabilize the supply of soybeans. As a result, Brazil joined the U.S. as a major soybean exporter.
Under the joint aid program for Mozambique, Japan plans to spend ¥2.37 billion in official development assistance.
However, the open letter says there had been no fair opportunities for Mozambique's small farmers to participate in the consultation process, and claims part of the project has already been implemented without conducting a required environmental impact assessment.
"We are extremely frustrated that the ProSavana program is not designed for the weak," UNAC President Augusto Mafigo said at a news conference in Yokohama. "It is designed for facilitating companies to acquire land. If that really happens, that would destroy our community."
Yuho Hayakawa, director of the media division of the Japan International Cooperation Agency, which is involved in the project, said the possibility can't be denied that more large-scale farming will be introduced to Mozambique through the project.
But he said the project is aimed at improving the agricultural skills of local farmers to boost their standard of living, and will benefit them.
"We are not planning to cancel the project immediately, but we will consult with the parties concerned and think about how we can reflect their opinions," Hayakawa said.
Representatives of UNAC visited Japan in February to discuss the project with government officials. They are in Japan this week ahead of the fifth Tokyo International Conference on African Development, a three-day conference starting Saturday.
According to JICA, Mozambique has achieved economic growth of around 6 to 7 percent over the past few years. In 2012, its economy grew 7.4 percent.