Reuters | 20 May 2013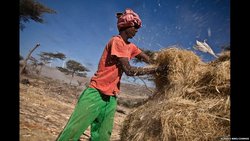 Mohammed Hadi al-Barqawi, head of Riyadh-based Hadi Property Investment firm, said he had been mulling with a Turkish partner a 100,000 feddan (acre) project to produce wheat, soya, sorghum and animal feed in Sudan's northern state. (Photo: Alfredo Bini)
By Ulf Laessing
KHARTOUM, May 20 (Reuters) - A Saudi firm will hold off its planned project in Sudan to produce wheat and other basic food items until the government eases a ban to repatriate profits, its head said on Monday.
Sudan, prized for its fertile land and easy access to irrigation water from the Nile, has been trying to attract farmland and livestock investment from Gulf Arab firms seeking to secure food supplies for their arid oil-producing countries.
While some government-backed projects from countries like Saudi Arabia, Kuwait and Qatar have gone ahead, privately-funded farmland deals have been hampered by severe restrictions in Sudan to transfer dollars abroad.
Struggling with foreign currency shortages, Sudan's central bank has made it almost impossible to transfer dollars abroad for firms outside the oil sector dominated by Chinese firms.
Mohammed Hadi al-Barqawi, head of Riyadh-based Hadi Property Investment firm, said he had been mulling with a Turkish partner a 100,000 feddan (acre) project to produce wheat, soya, sorghum and animal feed in Sudan's northern state, which borders Egypt.
"Sudan has everything... all the agricultural and human resources which could help secure food for a large number of countries," he told Reuters.
But the Saudi firm would halt its project, which is still in a feasibility study stage, unless the government allowed it to recoup at least some profits abroad.
"The government needs to create a system to allow to repatriate some of the profits, and authorities need to follow up on it," Barqawi said. "If they don't then many projects will fail."
"Sudan has a good investment legal frame, especially the fact that you are allowed to repatriate 60 percent of profits but it needs to be implemented," he said. "The problem with the central bank is whenever you want to transfer money they tell you there are no dollars."
Barqawi spoke on the sidelines of an Arab food security conference in Khartoum where government and Arab league officials sought to drum up investment from mainly Gulf firms.
"If they don't solve this problem (dollar transfers) then there is no value to such conferences," Barqawi said. "Nothing will happen in that case."
The Sudanese pound has more than halved in value since South Sudan's secession in 2011 deprived Sudan of most oil production, the main source for dollars and state revenues.
Foreign firms operating in Sudan often need to buy dollars at a high premium on the black market but cannot transfer them in most cases out of the country. (Editing by James Jukwey)