Agrimoney.com | 7 May 2013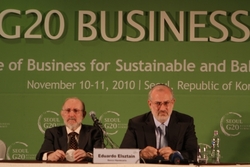 BrasilAgro, which counts Argentine agriculture giant Cresud as its major shareholder, with a 25% stake, said that the disposal was "in line with the company's business strategy that focuses not only on agricultural production but also on capital gains through the sale of properties". (Above, Cresud's owner Eduardo Elsztain.)
BrasilAgro flagged the buoyancy of Brazil's farmland market by selling off part of its holding for the equivalent of $6,000 an acre – more than four times the price it paid six years ago.
The farm operator, which controls 166,000 hectares of land, said it had achieved R$11.7m for selling off 394 hectares of its Araucaria cane operation in the central Brazilian state of Goias.
The sale, to a neighbouring farmer, equates to nearly R$30,000 ($14,800) per hectare, well above the R$7,100 per hectare that the group paid for the site in 2007.
It is also, at nearly $6,000 per acre, more expensive than cropland in most US states, including Ohio, Missouri and Nebraska, according to US Department of Agriculture data as of August last year which put the average at $3,550 per acre, although prices there have risen strongly in recent months.
Still, given that only 310 hectares of the Araucaria plot sold is suitable for crops, with Brazilian laws mandating some set aside for conservation purposes, the sale works out at about $18,880 per hectare, or $7,600 per acre, for tillable land.
BrasilAgro in its books values the land sold at R$3.6m, comprising the acquisition price and an allowance for investment spending net of depreciation.
'Pretty strong market'
A company spokesperson said that the gain reflects the buoyancy of Brazilian farmland prices, which have risen by an average of 14% a year since 2002 according to consultancy FNP.
"The market in the region is pretty strong," the spokesperson told Agrimoney.com, if adding that prices in some other areas, including Sao Paulo state, were typically higher still.
The group in October sold an eastern Brazilian farm for some R$5,200 per hectare, including infrastructure.
The latest sale also reflects the buoyancy of the soybean market – with the farmer who bought the area to grow the oilseed rather than sugar cane.
BrasilAgro, which counts Argentine agriculture giant Cresud as its major shareholder, with a 25% stake, said that the disposal was "in line with the company's business strategy that focuses not only on agricultural production but also on capital gains through the sale of properties".