The Irrawaddy | 9 May 2013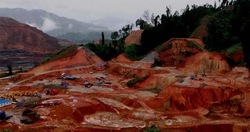 The construction site of the suspended Myitsone Dam, located in Kachin State. (Photo: The Irrawaddy)
By PAUL VRIEZE
RANGOON—About 40 ethnic activist groups are calling on the government, ethnic militias and the international community to address a surge in land-grabbing, as companies move into Burma's ethnic regions following recent ceasefire agreements.
But their campaign was off to a rocky start on Thursday when two government committees on land use declined to meet the activists.
Kevin Woods, a researcher with the Netherlands-based Transnational Institute (TNI), said the Land Investment Committee, headed by Union Solidarity Development Party MP Tin Htut, and the Land Allotment and Utilization Scrutiny Committee, chaired by Win Tun Min of the Ministry of Environmental Conservation and Forestry, had turned down requests to meet with the groups.
"They are the two most important committees for us to meet," Woods said on Thursday, as the activists prepared to leave for the Burmese capital Naypyidaw. "If these committees won't meet civil society groups from ethnic areas, where most land disputes are happening, then how do they expect to address these issues?"
Some presidential advisory bodies, such the Myanmar Peace Center and the National Economic and Social Advisory Council, did agree to meet the activists, Woods added.
Some 40 ethnic non-governmental organizations from across Burma and groups based on the border in Thailand held a series of meetings in Rangoon this week to discuss the growing number of land disputes in ethnic regions. The meeting was the first of its kind in Burma and had become possible because of recent political reforms.
During discussions on Thursday, ethnic activists voiced deep concern over the lack of legal protection of land rights of ethnic communities, who are increasingly losing farmland to mining or agro-industry firms.
The 2012 Land Law and other laws, they said, often fail to recognize land tenure of farmers—especially those reliant on traditional shifting agriculture—or local customary law regarding land. Most ethnic villagers struggle to register land ownership as the procedures are too expensive or because they lack the required ID cards.
"Farmers have no land registration papers, no identity documentation, so they have no proof of land ownership," said Su Su Nwe, 88 Generation Students activist. "According to the 2012 Land Law… these farmers can't go to court if their land is taken."
Most of Burma's ethnic minorities live in the border regions rich in mineral wealth, timber, fertile land and rivers suitable for hydropower dam development. The areas are plagued by long-running ethnic rebel insurgencies against the central government.
Burma's powerful military has often grabbed resources from ethnic communities at gunpoint. But after most rebels groups reached ceasefire agreements with the government, there has been an influx of local and foreign companies seeking to build mines or agro-industrial plantations in ethnic areas. Often the firms gain support from the military or, at times, from ethnic militias.
The ethnic activists and community representatives gathered in Rangoon said they feared that peace would lead to a massive surge in land-grabbing, deforestation and the damming of rivers.
"Ethnic nationals are scared of peace, although they want peace. They are worried about losing their land, their forest, their water," said Saw Alex, of the Karen Environmental and Social Action Network (KESAN). "Right now, the government and the armed groups need to gain the trust of the community."
Karen State reportedly experienced a spike in land-grabbing cases after the Karen National Union (KNU) reached a ceasefire agreement with the government in January 2012.
Saw Alex said that any future peace agreement would need to address key questions about land tenure and resource conflict in Karen State. "The Farmland Law goes against KNU policy on land, which follows local customary law. So which rules shall we follow when there is peace?"
He warned that an increase in resource-grabbing by military-supported investment projects could also lead to a flare-up in the ethnic conflict. "If we don't resolve these issues we can't say we are establishing real peace and reconciliation," Saw Alex said.
Activists from Mon and Kachin states, which experienced periods of relative peace due to ceasefires, warned that the Burmese military had used the ceasefires to expand its presence and to push through projects that confiscate resources from local communities.
"Although we talk about peace and reconciliation [after the 1995 ceasefire], we have seen the military government build the Yudana gas pipeline and confiscate a lot of land in Mon State," said Nai Kasauh Mon, of the Human Rights Foundation of Mon Land. "After the pipeline was installed the government has shown no interest in holding further peace talks," he added.
Ashley South, a researcher with the Myanmar Peace Support Initiative, said the ceasefires are having a mixed impact on ethnic communities. "There are many benefits to the peace process for them, they no longer have to fear violence, rape and forced labor by the military," he said. "But at the same time there is a massive increase in unregulated mining and agro-business."
"If these [latter] issues are not addressed it will undermine trust in the peace process," he said, adding, "There is a big role here for civil society groups to raise awareness among government officials, diplomats, donors and researchers."