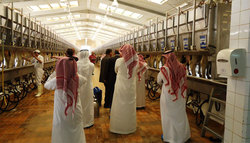 Saudi Arabia is looking to boost its investments in foreign agricultural production, especially in Africa and Latin America.
Business Monitor International Limited | 07 May 2013
BMI: Saudi Arabia Agribusiness Report (Apr-13)
Abstract

BMI View:

Saudi Arabia will increasingly be dependent on global grain supply, as the country has decided to phase out domestic grain production in a bid to preserve the country's water supply. The government has not abandoned its strategy of self-sufficiency in poultry and has been ramping up incentives to expand capacity production. This strategy has paid off, as the three major producers in the sector have all started heavy investment initiatives. We believe Saudi Arabia will find sufficient grain supply from the Black Sea region and the EU to supply its meat and food processing industry in the coming years. However, the country will remain highly vulnerable to volatile grain and feed prices. Recent spikes in feed prices have turned us more cautious on margins for dairy and livestock producers in the country, especially those that import inputs from abroad.

Key Forecasts
Wheat production growth to 2016/17: -56.3% to 487,900 tonnes. Wheat production will continue to decrease in the coming years on the back of the government's programme to phase out production.
Corn consumption growth to 2017: 30.5% to 2.7mn tonnes. Corn consumption will mainly be driven by the strong growth of the poultry sector, as corn is a major feed ingredient.
Poultry production growth to 2016/17: 50.0% to 885,000 tonnes. This spectacular growth will mainly come from expansion of the three major poultry farms (Al-Watania, Al-Fakieh and Almarai), along with continuous government support.
BMI universe agribusiness market value: US$2.2bn in 2013, forecast to increase by 6.3% on average per year between 2012 and 2017.
2013 real GDP growth: 4.1% year-on-year (y-o-y), down from 6.8% in 2012, projected to average 3.4% from 2012 to 2017.
2013 consumer price inflation: 4.5% average, same than in 2012, projected to average 4.5% from 2012 to 2017.
Key Revisions To Forecasts
2012/13 wheat production forecast revised down, to 800,000 tonnes (compared with a previous forecast of 1.0mn tonnes). Output is being phased out as a faster pace than expected.
Industry Developments

Saudi Arabia extended its efforts to build farming operations abroad by buying in March 2013 Continental Farmers Group at a hefty premium. A consortium of Saudi groups - comprising dairy giant Almarai, grain importer Al Rajhi and Salic, the agriculture arm of the country's sovereign wealth fund - agreed to pay US $92mn to acquire this grain producer located in northern Poland and western Ukraine. Due to serious land and water availability issues, along with high consumption of basic agricultural products, Saudi Arabia is looking to boost its investments in foreign agricultural production, especially in Africa and Latin America.

Saudi Arabia is eager to import foreign-bred cattle for its livestock and dairy production. Saudi Arabia procures cattle through imports while investing in suppliers' countries in order to secure stable supply. For example, much of dairy and poultry farm Almarai's feedstock comes from South America. Lately, there were some reports that Saudi Arabia could be planning to implement a joint project in order to support cattle breeding farms in Kazakhstan. The country could be ready to invest US$20mn on the construction of calving facilities for cattle breeding.

Saudi Arabia's Almarai has been one of the strongest performing major companies in the Gulf food and drink space over the past few years. It has a very strong dairy business and has taken some positive steps to diversify both in terms of geography and business categories - spending a reported US$1bn since 2007 on diversification. It looks well placed to continue growing domestically, in the wider Gulf region, and further out into the Middle East and North Africa. Its growing exposure to the booming poultry sector, along with a promising bakery business, bodes well for the company's future performance. However, its exposure to food inflation and especially to international grain and feed prices poses a key threat to margins.