Front Page Africa | 5 May 2013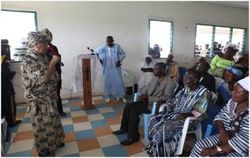 President Sirleaf addressing elders of Buta, Liberia where Golden Veroleum is expansing plantations. Land conflicts are causing delays in Sime Darby and Golden Veroleum's oil palm plantation plans.
Following successful consultations by the concerned Ministries and entities of government, President Ellen Johnson Sirleaf convened, on April 4, a meeting with concessionaires operating in Liberia. Subsequently, the President met, individually, with the management of Sime Darby Plantation (Liberia) and, on a visit to Sinoe County more than a week ago, with Golden Veroleum Liberia, to resolve issues of land and community rights.
The April 4 meeting agreed that:
A team, headed by the Land Commission and comprising the Ministries of Agriculture and Lands, Mines & Energy, and the National Investment Commission, would identify available land for the expansion of Sime Darby and Golden Veroleum, to enable the concessionaires to meet their planting schedule;
The Ministry of Lands and Mines would develop modalities to allow the concessionaires to contract external surveyors in order to accelerate their operations;
A team, headed by the Ministry of Labour and including the Ministries of Agriculture and Internal Affairs, is to intervene urgently regarding the layoff of some 600 workers at Sime Darby;
A team, headed by the Ministry of Internal Affairs and including the Land Commission and the Ministries of Labour, Agriculture and Information, is to commence consultations with affected communities to inform them on the contents of concessions agreements and the benefits that will accrue to them, and to address the communities' concerns and claims.
The Ministry of Finance was directed to, and subsequently made available, the required resources to enable the teams to commence their work;
In keeping with the meeting's decision, the President, on April 5th, signed Executive Order No. 50, renewing expired Executive Order No. 16 on the exportation of unprocessed natural rubber.
The President met with a delegation from the Sime Darby Plantation on April 18, which informed her that:
The company has spent over US$85 million in less than three years in Liberia;
Land expansion has been delayed, and instead of having planted 24,000 hectares with oil palm and rubber, it has planted only 5,237 hectares of oil palm;
Under the Concession Agreement, the areas for expansion were to be free from all encumbrances, but local communities are claiming ownership;
With over 700,000 overgrown seedlings unplanted and excess manpower not being fully utilized, the company was compelled in March to cancel 652 workers' contracts.
With a Coordinating Committee not yet established after more than two years, as required under the Agreement, Sime Darby is unable to seek redress into any land matter effectively;
Sime Darby is ready to nominate its representatives to the Community Development Committee, comprised of both the investor and the government;
Sime Darby calls upon the President to appoint a high-ranking official to coordinate Government's interaction with and assistance to the company during its period of investment.
In Sinoe from April 24-26, on her tour of that county, the President visited, on April 25, the Golden Veroleum oil palm nurseries in Numapoh/Kpanyan and in Butaw District, where she met separately with the management and the employees in an effort to resolve outstanding issues.
GVL informed the President of the following:
The company has planted 6,000 acres, which supports long-term employment for 600 local employees from the landed communities;
1,000 of the 1,730 employees hired for the expansion had had no proper work to do since January as the company stopped planting due to a complaint before the Roundtable on Sustainable Palm Oil (RSPO). The RSPO ruled, in February, that GVL is not in violation of RSPO new planting regulations, but should resolve any complaints;
With 1.2 million unplanted seedlings at its Wakefield Nursery - good for 14,400 acres of planting by GVL or smallholders - 700,000 seedlings are now overage and can become unplantable month by month.
as such, GVL's policy of permanent employment, wages, monthly rice and free transport is becoming unsustainable;
GVL has investigated, resolved or repaired all actual complaints regarding sacred sites and water courses, and is working with the Complaint Committee;
Construction of the Butaw mill will take two years and work needs to start by July in order to be ready for fruits in 2015.
A total planted area of 30,000 acres (including smallholders) supports one modern mill with manufacturing jobs; the plan calls for the construction of mills, at Butaw and Numapoh/Kpanyan, to add first stage value added manufacturing, as well as a port for exports. Both the mill and the port are on hold. When the mills are operating, many local people are expected to be employed.
GVL is awaiting government's appointment of the Community Development Fund Committee, in keeping with the Concession Agreement, with members representing the communities which allocate land. The Development Fund, available since 2012, pays US$5 per hectare annually.
During her visit to the GVL plantations, the President symbolically planted young seedlings as a demonstration of government's strong policy on agriculture. At a town hall meeting with citizens of Butaw over land issues, they agreed, as a result of Her Excellency's intervention, not to interfere with GVL operations and to work with it in creating jobs for the people of Sinoe. The President promised that government will initiate more consultations with them, especially as it relates to their traditional land and ancestral shrines. GVL promised to respect the rights of the people and to remain resolute to its job creation scheme.