Reuters | 29 April 2013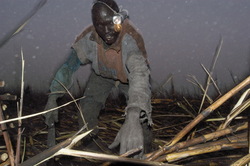 Cutting cane at the Kenana Sugar Company in the Gezira, Sudan (south of Khartoum). As the pre-dawn signals the end of his shift, a Southern katakau, or canecutter, slices through blackened stalks at Kenana. Controlled burning the night before has burned off leaves, helped to concentrate the sugar and chased out snakes. (Photo:
Michael Freeman)
By Ulf Laessing and Khalid Abdelaziz
KHARTOUM (Reuters) - Kenana, which is mainly owned by the governments of Kuwait, Saudi Arabia and Sudan, is aiming to more than double its annual sugar output to 1 million tonnes by 2015 as the firm seeks new export markets such as South Sudan, Mohamed El Mardi El Tegani told Reuters.
Sudan, one of Africa's biggest sugar producers after Egypt and South Africa, wants to cut dependency on imports of sugar, a big ingredient in Sudanese food, which makes prices of the commodity politically sensitive locally.
The Khartoum-based company plans a major expansion to diversify into "green products" such as bio fuel, fertilizer and animal feed to satisfy rising demand at home and
Boosting sugar and biofuel production would help Sudan overcome the loss of most oil reserves with South Sudan's secession in 2011. Oil used to be the main source for dollars needed to fund imports of sugar or gasoline.
Kenana wants to boost its annual production of biofuel to 200 million litres by 2015 from 65 million, of which 50 percent would be exported.
While currently 95 percent of its output is being sold to the European Union, Kenana launched this month a partnership with Nile Petroleum, one of Sudan's biggest oil distributors, to roll out ethanol at petrol stations.
"There is a big potential for production in Sudan," Tegani said in an interview on Thursday. "It improves the environment. Cost-wise definitely ethanol is cheaper than the normal gasoline," he said. Sudan is cutting down on fuel subsidies fuelling a budget deficit.
To fund its expansion, Kenana expects to get $500 million in a capital injection this year from its main shareholders, he said.
To raise more the firm plans to make next year a 25 percent an initial public offering with a primary listing in Johannesburg and secondary listing in Dubai, he said. Kenana has appointed Russia-focused Renaissance Capital and Dubai investment bank Shuaa Capital to manage the offering.
He gave no details but the firm said last year it planned to raise around $200 million. It had previously eyed an offering in Hong Kong late last year but given up the plan due to U.S. sanctions deterring firms around the globe to deal with Sudan.
SUGAR
Kenana will produce around 370,000 tonnes of sugar at its plant in White Nile state in the 2012-13 season, up from around 355,000 last year, he said. It aims to produce more than 400,000 tonnes next season after adding some 11,000 acres of land.
It also plans to refine this year 200,000 tonnes of imported raw sugar from Brazil, which will be to be exported to African neighbours such as Chad and the Central African Republic.
Two new plants will come online to help double output. Redais, in which Chinese investors have a stake, will produce some 500,000 tonnes of raw sugar from 2015. El Ramash in Sennar state will produce 150,000 tonnes from 2016.
"We are in talks for a major contract with South Sudan...We expect to do around 100,000 tonnes," he said. Kenana already exported 100,000 tonnes raw sugar to the EU and 30,000 tonnes of white sugar to Kenya this year.
Sudan's White Nile Sugar Co, in which Kenana is the biggest shareholder, expects to produce 130,000 tonnes in the 2012-13 season after launching its operations last year, Tegani said. Output would double to 250,000 tonnes next year
As part of its "green" diversification, Kenana also plans to launch 200,000 tonnes of annual production of bio fertilizer from December. Half of that would be exported to the EU and Gulf with the rest to be sold at home.
The firm would also start producing between 100,000 tonnes and 150,000 cubic meters per day of carbon dioxide this year, he said. Kenana also plans making "green" plastic.