Arab News | 27 April 2013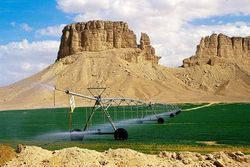 A forum of Saudi agricultural investors at the Riyadh Chamber of Commerce and Industry will on Sunday discuss the progress of Custodian of the Two Holy Mosques King Abdullah's Initiative for Saudi Agricultural Investment Abroad.
It will also deliberate on the issues related to such investors.
The forum will have the presence of Agriculture Minister Fahd Balghonaim who will exchange views and experiences, and discuss possible solutions to the investors' problems.
Board member and chairman of the Committee on Agriculture and Food Security Muhammad Al-Hammadi said: "Discussions will involve the developments of King Abdullah's Initiative for Saudi Agricultural Investment Abroad and solutions to obstructions facing investors and ways to support them."
Al-Hammadi said the committee had discussed the importance of scheduling meetings with General Investment Fund officials to discuss the ceiling for investor loans, payment and grace periods, and whether it is possible to grant facilities and privileges to Saudi investors abroad who borrow from the fund.
Such meetings are aimed at strengthening the committee's relations with government agencies and giving fund officials a clear picture of its roles, he said.
"They also aim to have the two parties exchange views and visions for building stronger agriculture and food sectors," he added.
The General Investment Fund is a partner in several Arab joint ventures and companies in Arab, Muslim and friendly countries.
It was established in 1971 with the goal of funding partly or fully government-owned commercial productive projects that would contribute in developing the national economy the private sector is incapable of carrying out.
It has funded projects in oil, transport (air, marine and land), petrochemicals, mining and others.