Green Scenery | 24 April 2013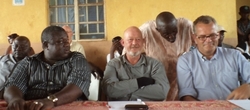 Officers of SOCFIN Agricultural Company Sierra leone (SAC) Ltd paying a visit to a village near their plantations in Pujehun District, Sierra Leone. SOCFIN, a Luxembourg domiciled company controlled by the holdings of French billionaire Vincent Bolloré, is just one of the companies that has aquired around 60% of the district's total area for palm oil production.
Freetown - In November 2012 the head of the UN's Food and Agriculture Organisation (FAO) warned that large-scale land deals are undermining food security. He compared "land grabs" in Africa to the "wild west", saying a "sheriff" is needed to restore the rule of law. And just recently, World Bank President Dr. Tim Yong Ki echoed concerns about the risks associated with large-scale land deals, noting that, "Securing access to land is critical for millions of poor people. Modern, efficient, and transparent policies on land rights are vital to reducing poverty and promoting growth, agriculture production, better nutrition, and sustainable development.
Green Scenery is concerned about large-scale land leases taken out for agriculture in Sierra Leone in general and particularly in Pujehun district since 2010. Based on figures from registered land leases, Green Scenery calculates that 60% of the total area in Pujehun district is already being, or could soon be converted for large-scale industrial agriculture, primarily for oil palm plantations. According to the registered documents, seven of twelve chiefdoms have leased large portions of land to investors for 50 years with possible extensions of up to 100 years. Lease areas range from 6,575 hectares to 47,568 hectares. Annual rents per hectare vary from 1,000 Leones (USD 0.23) to USD 12 (with 50% of that for landowners), leaving local farming communities with very little to live off after losing their land and economic trees.
Read Press Release
Read Fact Sheet