New Vision | 17 April 2013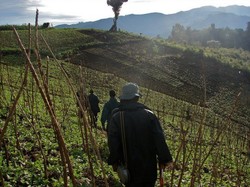 Photo: CIFOR
The Uganda Land Alliance (ULA) has observed that unfair government policies and ignorance of land rights and values have escalated the problem of land grabbing by investors in the country.
ULA said most of the land acquisition policies and laws are so unfair, favouring only the investors at the expense of the Ugandan landlords. ULA further revealed that lack of transparency in land deals limited access to the available limited information regarding land transactions has also escalated the vice.
This was revealed by ULA communications manager, Agnes Kirabo while addressing journalists at Sheraton Hotel, Kampala in a press conference that included religious leaders.
According to Kirabo, land grabbing is a contentious issue around the globe where large scale of land is illegally acquired by selfish and greedy individuals, domestic companies, transnational companies and governments.
"Land acquisition for investments in Uganda are characterised by human rights abuse and violation, lack of transparency in negotiations, inefficiency in resource use, environmental degradation, among others," she said.
Kirabo further observed that prioritizing investment against public trust, disrespect for rule of law, destruction of food crops and killing of animals, destruction of property and loss of life as communities resist eviction are also typical of land acquisition in the country.
The religious leaders who included Muslims, born again Christians, the catholic faith, Anglicans, among others pledged to join the fight against land grabbing in an attempt to combat the vice in the country.
This according to them is because the population of Uganda especially, those victimized by land grabbing are ignorant about their land rights and value of land generally.
"Ignorance of land rights and value due to limited access to information has escalated the vice of land grabbing in the country," said Rev. John Musa Lakol of All Saints Cathedral, Kampala diocese.
According to Lakol, it is their (religious leaders) responsibility and duty as stakeholders to educate the people who have full faith in them about the issue of land grabbing, and its impacts.