For more than seven years, villagers from the Odisha state have been repelling the attempts of the Korean company POSCO who is, with the local government's support, lusting after their farmable lands for the settling of a mining industry and a commercial harbor on the coast.
Escalation of violence since February 2013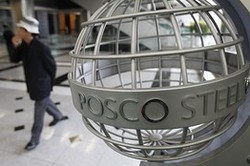 Since 2013, suppression against inhabitants is deepening, police forces are occupying the villages' outskirts for now more than two months, pulling up and burning the fields, harassing and abusing the protesting villagers. A bomb attack, whose source remains unknown, killed three demonstrators in March. Inhabitants gathered in a comity, the PPSS, are still conducting weekly protests, mainly leaded by women.
A project against all democratic values.
This monopolizing case is carried out against democratical logic, the Odisha state supporting a project whose economic utility is controversial even inside the government. This project would even have disastrous ecologic consequences. Finally, this project is contrary to the Forest Rights Act which guarantees the native and forest communities' rights, while the Memorandum of Understanding (MoU) signed in 2005 between the South-Korean company POSCO and the Odisha government is null and void since June 2010.
Short period to act.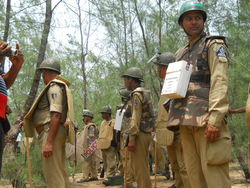 Because of the end of the parliamentary session of Odisha, held on April 6th, the inhabitants fear that violence rises. In Gobindpur, since April 3rd, 1500 inhabitants have started day and night an 'unlimited demonstration' to have their claims taken into account.

Months to come will be determining!
This is why we are asking the government of the Odisha State, represented by M. Naveen PatnaiK, "Chief Minister", to listen to the assaulted communities' claims:
Immediate withdrawal of the police forces from the countryside
Termination of the acquisition under duress of the villagers' lands by the local state
Respect for the Law of the rights of the populations depending on forests or Forest Rights Act
Respect for the fundamental rights of the affected communities without fear of arrests or false accusations
Make a move!
The
Jan Satyagraha
model in India shows us how important international solidarity could be.
It's first a moral gesture we send to all the people that struglle against landgrab, but it could turn into an international grassroot loby.
We wish that
petition
will spread and grow up, it is up to you! You can help us by:
sign the petition;
share it on your social networks;
speak about it, especially to the NGOs and associations you may know.
Find more :
We are sorry, the petition is only in French. We are waiting for an answer from Avaaz to expand it in other languages. Thank you for your understanding.