NZ City | 14 April 2013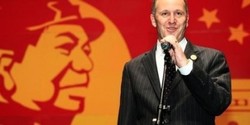 Prime Minister John Key has told Chinese officials that foreign ownership of farmland is a sensitive issue in New Zealand.
Still, he says there is no evidence of enormous holdings of rural land by foreigners.
Mr Key told TVNZ's Q+A programme that New Zealand welcomed investment from other parts of the world.
"We need that capital," he said.
If investment from any foreign country in farmland got out of control the government reserved the right to change law relating to the issue, he said.
Mr Key said he told officials while visiting China last week that there were areas of investment that were a win-win for both countries and there were areas that were more sensitive.
"That is the same consistent message that we give around the world."
His comments come after the controversial purchase of 16 farms from receivership by China's Shanghai Pengxin last year. The farms are being managed by a joint venture with New Zealand government-owned Landcorp.
Mr Key said New Zealand produced what China wanted to buy but New Zealand did not want to become solely dependant on China as a market.
"Fundamentally they want food," he said.
"This is a market that could at one level buy everything that New Zealand produces," he said.