Agrimoney.com | 11 April 2013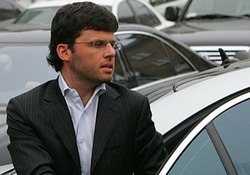 Kernel Group is listed on the Warsaw Stock Exchange and majority owned by Ukrainian billionaire Andrey Verevskiy, through his Cyprus investment vehicle Namsen Limited.
Kernel Holding expanded its Ukraine land holdings to well above 4,000 square kilometres, and lifted its grain storage capacity too, with its second significant farming acquisition within a year.
The silos-to-sunflowers groups said it had paid $68m for an 80% interest in a farm operator managing 108,000 hectares of "highly concentrated" leased land holdings in north eastern Ukraine.
Factoring in $101m of debt, the deal values the business, which also runs 100,000 tonnes of grain storage capacity, at $186m.
The acquired business "is self-sufficient in working capital, and is fully equipped with modern farming machinery", Kernel added
Growing empire
The acquisition takes to 422,000 hectares the area which Kernel controls – and area bigger than Luxembourg or most UK counties.
The group's crop storage capacity will reach 2.8m tonnes - equivalent to more than 5% of the Ukraine grains harvest, excluding oilseeds, which UkrAgroConsult estimated earlier this week would reach 52.38m tonnes this year, trimming its estimate by nearly 1.0m tonnes because of the setback to spring sowings posed by cold weather.
And the deal comes less than a year since the group's last land acquisition, of 40,000 hectares in north east Ukraine and 79,200 in Khmelnitsk in the west for a total of $98m.
Kernel in February acknowledged a "prolonged" process of integrating its new farms.
The group blamed the setback, with a drop in yields in the autumn harvest thanks to dry weather, for a halving to $13.4m in earnings before interest, taxation, depreciation and amortisation (ebitda) at its farming division in the last six months of 2012.
Rival's expansion
Other groups expanding in Ukraine - despite last year's poor grains harvest, pegged by UkrAgroConsult at 42.1m tonnes, but ahead of what is expected to be a far bigger crop this time –include UkrLandFarming, the arm operator owned by billionaire Oleg Bakhmatyuk.
UkrLandFarming has announced the $170m-180m construction of three elevators with capacity for more than 300,000 tonnes each, on top of the 1.13m tonnes in storage it already owns.
UkrLandFarming, a growing rival to Kernel in Ukraine grain exports, shipping 1.18m tonnes last year, has a landbank of more than 530,000 hectares.
Two weeks ago, a consortium of Saudi groups - comprising dairy giant Almarai, grain importer Al Rajhi and Salic, the agriculture arm of the country's Public Investment Fund sovereign wealth fund – agreed to pay some £60m for Continental Farmers Group, a farm operator in Poland and, mainly, Ukraine.
Kernel shares, which are listed in Warsaw, stood 0.5% higher at 59.05 zloty in late deals.