The Citizen | 9 April 2013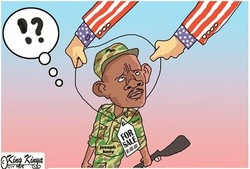 Editorial
Protracted conflicts over land ownership have taken a worrying turn with recent reports of villagers being locked in bitter disputes with their leaders or other influential individuals in various parts of the country.
Disputes between locals and investors who acquire large swathes of land in rural areas are also becoming increasingly common.
This is a potentially explosive issue that needs to be addressed as a matter of urgency before it leads to widespread violence and bloodletting.
Of concern here is the wanton grabbing and hoarding of vast chunks of land by leaders from the grassroots up to the regional level.
It boggles the mind that one person can dubiously acquire several thousand hectares and nonchalantly proceed to evict people who had lived on it for generations.
It is now not uncommon for a mere village chairman or some obscure political operative to own anything up to 1,000 hectares or more in an area where ordinary residents struggle to find tiny plots on which to carry out subsistence farming or use as pasture for their livestock.
A week hardly passes without the media carrying reports on land disputes between villagers and their leaders.
The worrying development comes in the wake of recurring clashes over land between peasants and pastoralists, particularly in Mbeya and Morogoro regions.
The scourge has now spread to parts of Cost Region.
To have a situation where people feel short-changed as far as the transfer of land ownership is concerned is a sure recipe for chaos.
It shows that something is seriously wrong with the way land is allocated for various uses.
We have good laws, but these are rarely adhered to. We need to have equitable distribution of land to avoid needless conflicts.
The Lands, Housing and Human Settlements Development ministry must act now before things get out of hand.