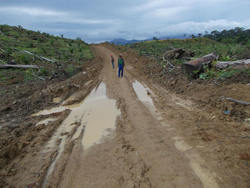 Photo: ALDAW
The Philippine Government has depicted oil palm as the "tree of peace", of "economic growth" and overall as best environmentally friendly option for eradicating rural poverty while reducing dependence on imported edible oils. It also claims that only 'idle' and 'underdeveloped' land should be converted into oil palm plantations. However, according the impacted indigenous communities, oil palm expansion is bringing havoc to their lives by destroying their farmlands, hunting grounds and forest products, polluting their water sources and thus impoverishing them to an unprecedented level.
According to the indigenous federation Kalumbay in Northern Mindanao alone, 20,000 hectares of agricultural land are being targeted for conversion to oil palm, and in Palawan (a UNESCO Man & Biosphere Reserve) ALDAW says that at least 20,000 have been set aside for oil palm development.
The areas being threatened by aggressive oil palm development include burial, sacred and worship sites. The local inhabitants perceive the destruction of these historical and natural landmarks as an obliteration of their history and collective memories of the past.
In May 2012, peasant and social activists from KMP KMP-Northern Mindanao Region (KMP-NMR) , The Apu Palamguwan Cultural Education Center (APC), Kalumbay, Sentro Kitanglad, Rural Missionaries of the Philippines (RMP) and the Pesticide Network Asia Pacific (PAN AP) conducted an International Fact Finding Mission on the effects of massive appropriation and conversion of farmlands to palm oil plantations in this region. On that occasion severe cases of human rights violations were documented, including strafing, illegal arrests, and holding farmers at gunpoint while personnel of A. Brown Company, Inc. destroyed their crops.
The mission also established that many palm oil plantation workers have been victims of pesticide poisoning and that, in the impacted areas, there has been an increase in the incidence of skin diseases and other illnesses, while water sources have been contaminated. As of now, displaced indigenous peoples, like those of Bagocboc village live on the fringes of oil palm plantations, unable to farm and feed their families.
The recent escalation of violence towards the opponents of oil palm plantations has led, on October 3, 2012, to the extra-judicial killing of Gilbert Paborada, the chairperson of indigenous organization 'Pangalasag'. He is said to be the fourth member of the indigenous federation Kalumbay who became a victim of extrajudicial killings in Northern Mindanao under the President Benigno Aquino III administration.
Also in Palawan (see previous coverage by IC) between 2009 and 2013, the ALDAW indigenous network–through video and participatory geographic information systems methodologies–documented the detrimental socio-economic impact of oil palm development. For instance, indigenous community members claim that 'new' insect pests have spread from the neighboring oil palm plantations to their farmlands, destroying thousands of coconut palms. As a result, people's income from the sale of 'copra' (coconut dried endosperm) has dropped at least 50 per cent. There is also evidence of oil palms being planted on a large scale also in "restricted", "controlled use areas" and "traditional use areas". This is in blatant contradiction with the rules and regulations contained in the Strategic Environmental Plan (Republic Act 7611).
Indigenous coconut growers are amongst the key victims of oil palm expansion (Photo ALDAW)
Few places in Southeast Asia can match the distinction of Palawan, in the Philippines. This is home to seven protected areas, a declared "Game Refuge and Bird Sanctuary" since 1967 and a "Mangrove Reserve" since 1981. UNESCO declared the whole Province a 'Man and Biosphere Reserve' in 1990. And yet, in blatant contradiction with existing environmental laws and regulations, also old and secondary forest (e.g. in Quezon Municipality) has been illegally cleared to make space for oil palm plantations.
In Palawan, the bulk of oil palm operations are being carried out by the Palawan Palm & Vegetable Oil Mills Inc. and its sister company Agumil Philippines Inc. Both companies have been established through joint ventures between Filipino, Singaporean and Malaysian investors. A construction company, Cavite Ideal International Construction and Development Corporation (CAVDEAL), and private individuals (Mr. Cho) have now also turned into land grabbers and are pushing their business into the territories of the local Palawan tribes.
Additional concerns have been raised by ALDAW over the construction of the palm oil mill in Maasin, Municipality of Brooke's Point. For a ton of oil processed, about 2.5 tons of effluents will be discharged into the pristine Maasin river, with high risk of contamination for the coastal environment and its coral reefs.
Overall land conversion by oil palm companies is happening with little monitoring on the part of those government agencies that, instead, should ensure environmental protection, such as the Department of Environment and Natural Resources and the Palawan Council for Sustainable Development. Environmental clearances are being issued too easily without strictly following the necessary bureaucratic procedures. A similar situation applies to oil palm development in Mindanao.
"Oil palm projects have never received the Free Prior and Informed Consent of our indigenous communities and we are now failing several notarized affidavits to condemn this. The National Commission on Indigenous Peoples' (NCIP) should seriously look into this matter" says Artiso Mandawa (ALDAW Chairman).
Finally, contrary to the government promises of increasing rural employment, job opportunities in oil palm plantations are rather meager and working conditions are exploitative with daily payments below the Philippines' minimum wage. Oil palm expansion on indigenous land both in Palawan and Mindanao should be stopped with haste, before its adverse socio-ecological impact becomes irreversible.
WHAT YOU CAN DO
Sign the online Petitions:
Petition 1 (covers Palawan and Mindanao, addressed to the National Government)
Petition 2 (covers Palawan specifically, addressed towards the Provincial Government, the Palawan Council for Sustainable Development (PCSD) and the National Commission on Indigenous Peoples (NCIP)
Also address directly your concerns to:
The National Level
H.E. Benigno C. Aquino III
President of the Republic
E-mail: [email protected] / [email protected] / [email protected]
Chairman, National Commission on Indigenous Peoples (NCIP) [email protected]
NCIP Director Ancestral Domain Office (ADO) [email protected]
NCIP Director Office of Environment and Human Rights (OEHR) e-mail [email protected]
NCIP Commissioner Dionisia Banua [email protected]
Hon. Ramon Jesus Paje
Secretary
Department of Environment and Natural Resources
Email: [email protected]
[email protected]
Hon. Proceso J. Alcala
Secretary
Department of Agriculture (DA)
Email: [email protected]; [email protected]; [email protected] – Cc. Euclides G. Forbes (Administrator – Philippine Coconut Authority) [email protected]
Hon. Loretta Ann P. RosalesChairperson, Commission on Human RightsEmail: [email protected], [email protected]
The Provincial Level
Hon. Baham Mitra
Governor of Palawan
E-mail: [email protected]
Executive Director: Romeo B. Dorado
Palawan Council for Sustainable Development E-mail:[email protected]
[email protected] Cc. [email protected]
Others
Walter W. Brown
Chairman
A.Brown Company Inc.
[email protected]
For additional information contact the ALDAW Network [email protected]