Agrimoney.com | 28 March 2013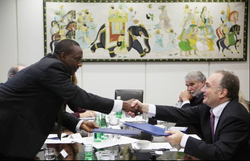 In its 2012
Annual Report
, Louis Dreyfus Commodities says it owns and operates a total of more than 180 000 hectares of farming land distributed around the world, and that it is looking into more farming opportunities in the Ivory Coast, Cameroon and Tanzania. In November 2012, Director-General of the United Nations Industrial Development Organization (UNIDO), Kandeh Yumkella, and the Group Chief Executive Officer of Louis Dreyfus Commodities, Serge Schoen, signed a memorandum of understanding (MoU) to enhance the productivity and profitability of agribusinesses in Africa.
Louis Dreyfus Commodities listed markets from Ethiopian coffee to Asian feed as priorities for a $7bn investment drive to help build on earnings growth of 36% last year.
The Swiss-based group - one of the big four agricultural commodities traders with Archer Daniels Midland, Bunge and Cargill - said it would lift investment spending to $900m this year, from $700m in 2012, when it bought dairy trader Ecoval and US sweeteners group Imperial Sugar.
The investment, part of a $5bn investment plan extending to 2017, would support plans to "continue to outpace the industry", Serge Schoen, the Louis Dreyfus Commodities (LDC) chief executive said, after a year in which earnings reached 1.0bn.
Excluding losses at Biosev, the Brazilian sugar and ethanol business, earnings hit a record $1.1bn, despite a 0.9% easing in revenues to $57.1bn, attributed to falling crop prices more than offsetting a 7% rise in volumes.
Profits were supported by a jump in palm oil imports to Europe, and by filling from countries such as Brazil and Ukraine the void in corn supplies left by last year's drought-hit US harvest.
Expansion plans
LDC cited a list of targets for spending ranging from farming in Tanzania to dairy assets in low-cost producing countries and growing import markets, with the group highlighting "aims to secure supplies of key ingredients in all major producing regions to meet anticipated growth in demand".
In coffee, the company said it would "consolidate" its supply chain of sustainable beans by "focusing on upstream expansion" in the four major growing countries, Brazil, Colombia, Indonesia and Vietnam, and "strategic assets" in mid-ranked producers, such as Ethiopia and Peru.
And in grains, the group highlighted its expansion in the Canadian market, to exploit a gap created by reforms which stripped the Canadian Wheat Board of its monopoly on exports from the main western growth region.
The shake-up had raised the "possibility for us to use our prairie-wide network of elevators and experience in Canada to become a leading player in the liberalised Canadian wheat market," said LDC, which has 10 elevators in the Prairies.
Asian focus
However, the group flagged in particular its entrance last year into the Asian feed industry, establishing an operation in which it sees output capacity growing to 6.0m tonnes by 2017.
The business, which currently operates three mills in China, is building a further two, with plans to expand the portfolio to 10 by the end of 2014, all in Henan province.
It plans to expand into South East Asia in 2013 and 2014, in an attempt to exploit Asia's increasing appetite for meat and LDC's longstanding operations sourcing feed ingredients, allowing the group to capture margins further down the feed chain.
The expansion will also support LFC plans to triple its volumes, and quadruple its assets, in Asia by the end of 2017, through plans also including expansion in Vietnamese coffee, plus palm oil trading and sugar refining.
'Ambitious in our financing'
LDC, which last year tapped capital markets for the first time in its 160-year history with a $350m bond issue, said that it would be "ambitious in our financing" to support its investment drive.
"We plan to increase our access to public capital," Mr Schoen said, adding that the group would also "leverage previous investments".
The group, and Biosev, together have access to $20bn of funding outside the bond issue, he said.
The comments come the day after Biosev, which last year shelved plans for stockmarket listing, unveiled fresh plans for a share offering – through a deal limiting the downside to investors.
The Brazilian company proposed raising R$945m ($470m) from selling 63m shares, priced at R$15.00 apiece, with an offer to buy the stock back at the same price, plus interest, 15 months later.