Cargill expanding palm-oil plantations in Indonesia
Published: 22 Mar 2013
Wall Street Journal | 22 March 2013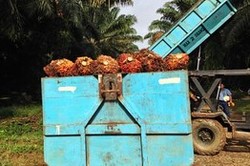 By Sameer Mohindru
PALEMBANG, Indonesia–U.S. food giant Cargill Inc. plans to expand its oil-palm plantations in Indonesia to boost output, helping meet rising global demand, company officials said Friday.
Indonesia is the world's largest producer of palm oil, and Cargill isn't alone among trading and plantation companies eying opportunities there to cash in on strong demand for a product used in processed foods, cosmetics and motor fuel, despite concerns over its environment cost.
"We are aggressively looking for new areas in Sulawesi, Central Kalimantan and South Sumatra that are environmentally safe to expand our oil-palm footprint," Anthony Yeow, president-director of the company's oil-palm plantations in Sumatra told Dow Jones Newswires.
Last month, Wilmar International Ltd., the world's leading palm oil supplier by volume, announced it has taken a majority stake in a palm plantation venture in Indonesia's Papua owned by Noble Group Ltd.
Environmentalists warn that rampant expansion of plantations, which already cover large areas of rural Indonesia and Malaysia, will accelerate deforestation, increase emissions of greenhouse gases and threatened endangered animal species.
Cargill argues that expansion is necessary to feed world's growing population and rising industrial demand, but feels it can be achieved without endangering the environment.
Benchmark palm oil prices on Malaysia's derivatives exchange have fallen 1.6% this year, with the June contract for delivery at Bursa Malaysia Derivatives trading at 2,463 ringgit a ton midday Friday.
Palm oil prices have been more than twice the cost of production for several years now, spurring a boom in output not seen in any other farm commodity in Asia for decades. Indonesia's annual palm oil output is now around 26 million tons, up from around 5.8 million tons in 1998.
While global demand for edible oils is rising by around 3% annually, palm-oil consumption growth is as high as 7%, and there is a large scope to expand production in waste and degraded lands, said John Hartmann, COO of Cargill Tropical Palm Holdings Ltd.
Cargill won't invest in peatlands to grow oil palms and favors extension of Indonesia's moratorium on new commercial concessions in primary forests that will expire in a few weeks, Mr. Hartmann said.
Peatlands are centuries old forests that are natural storehouses of carbon. Their destruction in recent decades to expand oil palm plantations has led to vociferous protests and warnings about increased greenhouse gas emissions.
Mr. Hartmann said most of Cargill's Indonesia plantations are certified as "sustainable" by the Roundtable on Sustainable Palm Oil and the remainder will also get the certificate by the end of this year.
RSPO is a private body, whose members include both plantations and environmental organizations, that certifies oil palm plantations as sustainable if they meet certain principles and criteria.
Cargill produces around 300,000 tons of crude palm oil in Indonesia annually and is in the process of acquiring 5,600 hectares of land in South Sumatra, boosting its plantation area in Indonesia by 13%.
The U.S. firm has more than 42,000 hectares of oil-palm plantations in the country and production tie-ups with local smallholders in an additional 27,000 hectares. In Indonesia, at least 20% of land in large oil-palm plantations is reserved for smallholders with around two hectares each.
"The process is at an advanced stage and will be completed sometime this year," Mr. Yeow said.
He said 6,000 hectares of the company's plantations in South Sumatra will reach full maturity by next year, with this pushing up annual crude palm-oil output by 20,000 tons, and a new mill with crushing mill with a capacity of 60 tons an hour is being set up to handle the rising output.
Mr. Yeow said Cargill's annual plantations yield is around 25 tons a hectare, well above the national average of 17 tons.