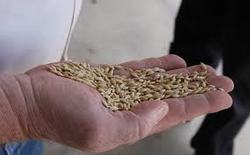 Duxton manages $600 million of investments, mostly in agriculture, for global pension and sovereign-wealth funds.
Dow Jones Newswires | 25.3.2013
Singapore Asset Manager in Talks Over Australian Farms -Exec
By Caroline Henshaw
SYDNEY--Singapore-based Duxton Asset Management said it is in talks over planned investments in four Australian farms despite increasing scrutiny of farm purchases by foreigners.
Australia, a major wheat, beef and sugar exporter, is seen as a possible food bowl for expanding middle classes in Asia and the Middle East. That's prompted a wave of foreign investment from sovereign wealth funds, pension plans and institutional investors in recent times. But it has also attracted opposition from some lawmakers who fear such investment gives foreign governments control of vital assets at the expense of local farmers and the security of Australia's food supplies.
"Australia would now be deemed more risky from an international investment perspective than three years ago," said Desmond Sheehy, chief investment officer of Duxton, which manages about 600 million of investments, mostly in agriculture. Its clients include global pension and sovereign-wealth funds.
Even so, Mr. Sheehy said the asset manager is looking to increase its exposure to Australia, with talks underway for investments in four farms valued at between 10 million and 30 million apiece. He declined to give any further details, other than to say that they would give the asset manager exposure to all of Australia's major farm commodities. Duxton, which was spun out of Deutsche Bank nearly five years ago, already has investments in Australian dairy, cereal, lamb and fruit and vegetable producers.
To offset any concerns about foreign investment, Duxton now takes majority stakes alongside local farmers, rather than buying the assets outright. The asset manager typically takes stakes in debt-laden farms, increasing production by upgrading equipment and expanding into neighboring properties. Duxton hopes Australian assets will eventually account for up to 30% of its 430 million global farm portfolio, up from about a quarter now, Mr. Sheehy said.
Australia exports about 70% of its farm products each year. Foreign investors from China, Sweden, Canada, Qatar and the U.S. are among those who have bought farmland here in recent years.
The increase in foreign investment has alarmed some lawmakers. When the government last year approved the sale of a giant cotton farm, Cubbie station, to a consortium led by Chinese company Shandong RuYi, it sparked a political backlash. Barnaby Joyce, a senator for the country-based Nationals party, said the station was a "strategic asset" for the cotton industry because of its size and shouldn't be controlled by a foreign company.
Prime Minister Julia Gillard has since attempted to address those fears, promising a register of foreign land holdings. Tony Abbott, leader of Australia's main conservative opposition party, tipped to win a general election in September, has said he'd consider lowering the threshold at which foreign investments in agriculture are scrutinized by the country's investment review board, to 15 million Australian dollars (US15.7 million) from A244 million now.
Write to Caroline Henshaw at
[email protected]