Bloomberg | 8 March 2013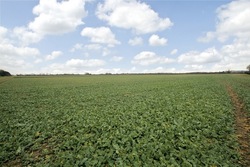 Agricultural land is seen on the Stubton Estate in Lincolnshire. Photographer: Matthew Jordan/Aerial Viewpoint via Bloomberg
By Rodney Jefferson
At the Stubton Estate in Lincolnshire, with its newly sown rapeseed and thin shoots of winter wheat, investors are jostling for a piece of England's green and pleasant land.
The 1,814-acre (734-hectare) farm went on the market three weeks ago for 16.8 million pounds ($25 million) and at least 20 potential buyers have looked at it, according to Strutt & Parker, the broker that's handling the sale. At about 9,230 pounds, the asking price per acre with buildings is more than double what land in the area changed hands for in 2008.
"It's unusual to see something of this scale on the market," said Martin Robinson, chairman of Brooks Macdonald Funds, which manages 300 million pounds and owns three smaller farms in Lincolnshire in a fund. "It's good-quality land, big open fields and in a good commercial location."
Rural land produced some of the best investment returns in Europe since the financial crisis began five years ago, appreciating by 51 percent across England, data compiled by agent Knight Frank LLP show. Millionaires' mansions in London rose 19 percent in the same period and the rest of the U.K. housing market lost value.
While the best start for U.K. stocks since 1998 suggests investors are returning to riskier assets, the British countryside hasn't lost its status as a haven for money.
Stable Market
The agricultural-land market in Britain, excluding areas of rough grazing for livestock, is worth about 250 billion pounds, based on the total amount of land multiplied by the average price, broker Savills Plc (SVS) said.
"We are not expecting an alteration in the farmland market unless we see a general move in the financial markets to higher- risk assets," said Tim Atkinson, a partner at agents J.H. Walter LLP in the city of Lincoln. "No one wants to sell land and there's a weight of money waiting to get into it."
Lincolnshire, which starts 100 miles (161 kilometers) north of London, is the U.K.'s most active farmland market. Prices rose by 10 percent to 15 percent last year, according to data compiled by Savills. Farmland values in the U.S. Midwest jumped 16 percent as a prolonged drought drove up crop prices, the Federal Reserve Bank of Chicago said last month.
BlackRock Sale
In December, a private investor bought a Lincolnshire farm from BlackRock Inc. (BLK) for more than 50 percent above the listed price, according to Strutt & Parker, which organized the sale.
Savills predicts values will increase by an additional 40 percent in the next five years, compared with 24 percent for luxury homes in London. Knight Frank, another broker, in January forecast a 5 percent gain this year for farmland.
"You can't realistically think that prices can double again over the next five years," said Andrew Shirley, head of rural property research at Knight Frank. "There will be steady, but less spectacular growth."
The FTSE 100 Index (UKX) of stocks was up 9.5 percent in 2013 through yesterday, the best start to a year since 1998 even after Moody's Investors Service cut the U.K.'s AAA credit rating last month. It's up 11.5 percent over the past year. The Dow Jones Industrial Index in the U.S. rose to a record this week.
"Stocks have done better over the past 12 months, but if you look over the longer term, farmland will hold its own," said Robinson at Brooks Macdonald near Manchester.
Robinson, whose 12.3 million-pound U.K. Agricultural Land (BRAUKAB) fund owns five farms and has returned 21 percent since September 2010, expects Stubton to sell for about 20 million pounds.
Thatcher's Home
One of Lincolnshire's attractions to farmers is the county's swathes of open fields that can accommodate bigger machines with flexible soils for crop rotation. Wheat prices have fallen about 11 percent this year, though are still up 27 percent since the end of 2009, based on futures contracts.
Towns in the county, about 1/30th the size of Nebraska, include Boston, which has the biggest proportion of Polish immigrants outside England's southeast because of agricultural jobs, and Grantham, the birthplace of former Prime Minister Margaret Thatcher. The difficulty for buyers is getting hold of a large enough slice of land.
"It's a great place to get into the market, but there isn't much out there," Will Parry, the broker at Strutt & Parker showing potential buyers around Stubton, said in his four-by-four car as it trundled along a track between winter crops. "There were fewer acres on the market and there was only one successful buyer, with maybe four who missed out."
'Frustrated Buyers'
About 1 billion pounds of land changed hands last year, representing the fewest number of acres since 2003, Savills figures show. That equates to less than a third of the average trading in a single day for the stock market.
Prices are staying high this year because of all the "frustrated buyers" from 2012, Parry said.
Farmers, individual investors and institutions are the main types of purchasers of farmland and prices vary depending on whether the sales are in the private or open market. As well as making capital gains from the land, farm buyers can also qualify for an inheritance tax break as long as the land is in use, another driver of prices, brokers said.
A buyer from outside the agriculture industry typically rents out the farm, with annual income of about 2 percent of the land's value. That compares with average rental yields of 5.8 percent in the commercial property market, according to Investment Property Databank.
"From a rental point of view, I don't see how it pays," said Andrew Dickins, who sells farms in North Yorkshire at property agent Robin Jessop Ltd.
Waite Farm
New York-based BlackRock, the world's largest money manager, sold the 992-acre Waite Farm, about 30 miles east of Stubton toward the North Sea coast, for almost 12,000 pounds an acre with buildings, according to brokers. That was about quadruple the U.K. average of five years ago, based on data compiled by Savills.
Desmond Cheung, manager of the Blackrock Agriculture Fund, said in December that Waite Farm provided good returns and the fund was "responding to investor interest" in U.K. farmland. He said last month he wasn't authorized to comment further.
Strutt & Parker said the buyer didn't want to be publicly identified.
"It's better to buy into a busy market," Stephen Hall, a Lincoln-based agent at Savills, said at the sales hoarding for land at Woodhall Spa, 280 acres of Lincolnshire lying fallow after potatoes were harvested last year. "Values will inevitably do what they do, but in terms of the exit in a proven market at whatever point it's at, there will be local buyers."
Two Belgiums
Agriculture is about 0.6 percent of the U.K. economy, government statistics show. Farmland defined as "croppable" stood at 6.1 million hectares at the end of 2011. That arable land is equivalent to 23,552 square miles, less than a third the size of Nebraska or twice the area of Belgium.
Total income from farming in Britain was 5.69 billion pounds in 2011, the latest annual data available, up 25 percent from a year before when adjusted for inflation, according to the Department for Environment, Food and Rural Affairs. It was the best performance since the mid-1990s and returns have picked up since 2008 as the currency weakened and commodity prices rose.
Back at the Stubton Estate, Parry from Strutt & Parker is standing near the 5,000-ton grain store waiting to show around more interested parties. Inside is what he calls "what feeds the world," a 12-foot-high pile of corn. The farm is being sold on behalf of a deceased businessman, he said.
"It's preserving wealth, the pound for the future," said Parry. "This is your cash crop. It's what the world lives on."
To contact the reporter on this story: Rodney Jefferson in Edinburgh at
[email protected]
To contact the editor responsible for this story: Andrew Blackman at
[email protected]