Anywaa Survival Organisation | 8 March 2013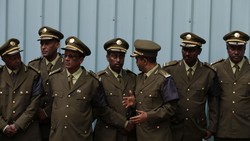 Anywaa Survival Organisation (ASO) has been monitoring the murder, displacement and arbitrary arrest of local farmers near to a large land grab in Gambela state, southwest Ethiopia. In an incident that developed with the arrest and detention of Mark Omot and Paul Agwa, the army went on rampage in the Gog Dipach community leaving 16 farmers, agricultural extension workers and teachers dead, according to local ASO sources.
The whereabout of more than 20 people are reported to be still unknown following the unprovoked attack. ASO, a non-for-profit organisation serving people without voice and deprived of fundamental human rights, is deeply concerned about the unabated human rights abuse and displacement of indigenous communities from their traditional villages and surroundings.
The attack on Gog Dipach community deprives local people of their livelihoods such as fishing, hunting and rotational agricultural farming and threatens their traditional way of live. The Anywaa (or Anuak) are known for their rich life style along the main rivers of lowland Ethiopia.
Gog Dipach is known for its thick forest, agricultural potential and favourable climate making it a target for government-supported commercial agricultural investment. A Turkish company recently acquired 6,000 hectares of fertile arable farmland for cotton and soybean production. Toren Agro Industries P.L.C, Ethiopian subsidiary of Tekron Group, a conglomerate based in Istanbul, signed a 25 years land lease agreement on 30 September 2011 with the Ethiopian Ministry of Agriculture in Addis Ababa.
The attack on indigenous communities 4 km away from the agricultural operations of the Turkish company is suspected to be directly related to the unprovoked attack which appears to be intended to displace and terrorise local people into abandoning the area. In a similar development, state police commissioner and commander Oman Ogaala was detained and remains in detention in Gambela police station.
The state governor, Omot Obang Olum, accused the commissioner of being linked to anti-peace elements, in an interview with Amharic VOA programme. The interview with the state governor contradicts with information from the region. Sources claim Commissioner Oman Ogaala was detained when he refused the army's demand that he legalise the attack on innocent civilians and the dragging of a victim's body through the streets of Gambela town. Commissioner Oman Ogaala was a member of the Gambela Peoples Liberation Movement (GPLM), a state political party that fought alongside the Ethiopian Peoples Revolutionary Front to overthrow the military junta. Sources indicate that Commissioner Oman Ogaala was alleged to possess a GPLM t-shirt with slogans and to have links to"anti-peace" elements.
GPLM was a party that provided Gambela state governor Omot Obang Olum with a civil service college law degree education, and assigned him to state police commissioner and state security position. In a development similar to what ignited the 2003 genocide, the army dragged the body of a person they claim to belong to a rebel group fighting the government through the streets. In a press statement and subsequent television reports, the state administration pointed out that a 34 year old US citizen, Omot Odol, died in the Gog Dipach attack.
The governor, in an interview with the VOA Amharic programme, neither confirmed nor denied the administration's press statement. Since the 2007/8 financial crisis and food price hike, Gambela state has been a centre for land grabbing of corporate companies from India, China, Saudi Arabia and others, and the resulting forced eviction of farmers and gross human rights violations including displacement, rape, arbitrary arrest of local communities and murder.
An attack in early 2012 on Saudi Star, a company belonging to Saudi tycoon, claimed 5 people lives including foreign Pakistani national and wounded many more working for the company. The attack was followed by indiscriminate attack by the Ethiopian army on Pokedi village killing innocent farmers, students and local police and displacing farmers from the area.
For further information, contact Nyikaw Ochalla, Director Anywaa Survival Organisation-ASO at
[email protected]